Caity Lotz Explains How Nerve-Wracking Arrow-verse Sex Scenes Can Be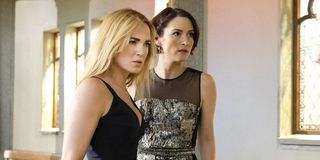 (Image credit: Image courtesy of The CW)
The Arrow-verse currently consists of four shows filled with characters getting into superhero action on a regular basis. For some characters, there's also a lot of action going on between the sheets. Caity Lotz, who has played Sara Lance since way back in the beginning of Arrow Season 2, has had to film her fair share of intimate sex scenes, and they're apparently still nerve-wracking years after her first lingerie-clad scene with Stephen Amell as Oliver Queen. Lotz recently described a sex scene that got her nervous from the big "Crisis On Earth-X" Arrow-verse crossover, saying this:
Many actors have spoken out about how awkward it can be to film sex scenes, with stories ranging from hilarious to cringe-worthy to requiring shots to get through them. Since she plays a very sexual character in Sara Lance, Caity Lotz has been a part of a fair number of sex scenes in the Arrow-verse, and they're apparently still nerve-wracking for her after all these years. According to her comments during a panel at the recent POPSUGAR Play/Ground festival, it's not so much the shedding of clothes and climbing into bed with a fellow actor that's unnerving. For Lotz, what's more unnerving is everybody on set making a big deal out of the sex scenes.
Caity Lotz didn't say that she doesn't appreciate a closed set for scenes like Sara's one-night stand with Supergirl's Alex Danvers in the "Crisis On Earth-X" crossover, but it sounds like filming such scenes gets weird when everybody on set makes it weird. Maybe filming a sex scene would feel just like filming any other non-sexy scene if not for folks on set going out of their way to try and make the actors comfortable. Who would have guessed that trying to make a performer comfortable would have the opposite effect?
As it turns out, Sara's recent sex scenes since her resurrection and move to Legends of Tomorrow aren't the only ones that had her nervous and a bit on edge. Her very first sexy scene on Arrow had some complications that couldn't have been fun, especially considering she had only just joined the show. Here's how Caity Lotz described an early scene on Arrow:
Arrow fans likely remember that the Sara Lance who had the misfortune to be with Oliver on the Gambit when it went down was first played by a different actress, and the role was recast with Caity Lotz taking over when Sara returned to Star City in Season 2. The show wasn't done flashing back to that fateful night on the Gambit, however, and it wouldn't have made sense to feature flashbacks to Stephen Amell and another actress when Caity Lotz was right there to re-shoot scenes and make them fit into episodes. Unfortunately for Caity Lotz, she had to deal with a wardrobe situation that really didn't work. The lingerie that fit original Sara actress Jacqueline MacInnes Wood just didn't fit.
Fortunately, Sara had a lot more to do in Season 2 than be sucked out of the Gambit via flashback, and few fans probably remember too much about that scene all these years later. Aside from a brief period in which she was very dead, Sara has been kicking ass and taking names all over the Arrow-verse (and throughout time), and her sex scenes in more recent years have Sara much more assertive and in control. Hopefully any future sex scenes won't be so nerve-wracking for Caity Lotz.
Sara's romantic situation could get complicated in Legends of Tomorrow Season 4, however. She's currently in a relationship with the lovely Ava, and actress Jes Macallan's bump up to regular status for the next season likely means Ava will be around a lot more. That said, Constantine will be around a lot more, and he hooked up with Sara in Season 3. Still, given that this is Constantine and Sara we're talking about, the odds are pretty good that any allusions to their hookup with be played for laughs rather than used to launch a relationship.
We'll have to wait and see. Legends of Tomorrow will return for Season 4 on Monday, October 22 at 9 p.m. ET on The CW. It will follow new episodes of Arrow Season 7, which has switched nights and time slots yet again. If you need some series to watch while we wait for the Arrow-verse action to pick up again in the fall, check out our summer TV premiere guide.
Resident of One Chicago, Bachelor Nation, and Cleveland. Has opinions about crossovers, Star Wars, and superheroes. Will not time travel.
Your Daily Blend of Entertainment News
Thank you for signing up to CinemaBlend. You will receive a verification email shortly.
There was a problem. Please refresh the page and try again.