5 Big Bang Theory Guest Stars We Want To See Again Before The Show Ends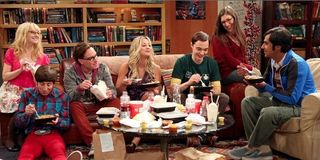 The Big Bang Theory has seen loads of guest stars in its almost 12 full seasons on CBS. But, as fans and probably even non-fans know by now, the show will be heading off to that big nerd convention in the sky at the end of this season. The questions now is, which of those major guest stars do we want to see return? While the choices are many, sadly, several of the biggest guests that the long-running comedy has seen have passed away. So, while we won't be treated to any more visits (or voice overs) from Leonard Nimoy, Carrie Fisher, Stephen Hawking, Adam West or Stan Lee, there are still plenty of options for last minute guest appearances. Here are the ones we think would be the most fun to see again.
James Earl Jones
One of the most epic Big Bang Theory cameos came fairly recently, when Darth Vader...I mean, James Earl Jones portrayed a very open and easy-going version of himself in a Season 7 episode that aired in early 2014. Sheldon is such an odd duck that the show often has fun pitting his intriguing behavior against his fan encounters, but those usually don't turn out so well for him. Just a few weeks ago we saw him vomit when finally getting a chance to shake hands with William Shatner, and by the time James Earl Jones made his guest appearance, Sheldon had already managed to piss off / scare Stan Lee, Leonard Nimoy and Bill Nye to the point that they have restraining orders against him, so his time with Jones was a real treat.
Sheldon tracked Jones down at his favorite sushi restaurant, and the acting legend actually welcomed his company. He regaled Sheldon with Hollywood stories as the two spent the night adventuring around town at an ice-cream parlor, a carnival, a strip club and a sauna. While Sheldon got bored with all his tales of working on major movies, how could another meeting between these two not be perfect? Whatever the circumstances, I can see James Earl Jones remembering Sheldon and wanting to hang out again, with the picky (but newly matured in many ways) fan trying to shake the over-eager star without hurting his feelings. Yup, ideal comedy situation!
George Takei
Star Trek legend George Takei has only shown up one time on The Big Bang Theory, in a Season 4 episode that aired way back in 2010 where he played himself...but a version of himself that was only in an odd fantasy of Howard's. I think the time is right to have Howard come into contact with the man who brought Hikaru Sulu to life, well, in real life.
Takei's last appearance saw his fantasy self question Howard's sexuality when he interrupts a fantasy liaison between Howard and Katee Sackhoff (we'll hear more about her later), and then pop up again in Howard's mind as he tries to make some moves on Bernadette after a date. While his two fantasy friends try to offer advice on how to solidify things with Bernadette, Takei's take on the situation ends up better for Howard. Obviously, when Howard meets George Takei in the real world, they will have to have an awkward conversation about why Howard feels like he knows him. But, in my dream (haha) scenario, Takei will leave Howard with the feeling that he was really privy to that date with Bernadette somehow. It's slightly creepy, and I love it.
Katee Sackhoff
OK, this guest appearance takes us back into the masturbatory mind of Howard Wolowitz, as Battlestar Galactica actress Katee Sackhoff has shown up on The Big Bang Theory twice, but simply as a...useful fantasy of his. In addition to her Season 4 fantasy trip with George Takei, she came by solo in a Season 3 episode to help Howard enjoy bath time a little bit more. But, most importantly, each of Sackhoff's guest appearances saw her talking to Howard about his burgeoning relationship with Bernadette. You probably know where I'm going with this...right?
Wouldn't it be marvelous if Howard...no, even better, Bernadette, runs into Katee Sackhoff completely by chance, only to reveal to the former sci-fi star how her husband is a fan and used to enjoy her image quite frequently? Maybe the conversation, instead of turning even weirder, could actually do a lot more to show how solid the marriage between Bernadette and Howard really is now. I mean, why would he ever tell her such an intimate and potentially embarrassing detail of his fantasy life unless he was pretty secure in what they have as a couple? Guys, this could turn into a lovely almost-full-circle moment for what has turned out to be the longest and strongest romance on The Big Bang Theory. Who's with me?
Laurie Metcalf
We're now going to get into a couple of less flashy guest stars, seeing as how neither of these famous folks play themselves on The Big Bang Theory, but, instead, have portrayed important family members of our core characters. Let's start with Laurie Metcalf, who, as Sheldon's no-nonsense and long-suffering mom Mary, has been one of only three actors to show up since Season 1 as a parental unit. In addition, Mary has only been absent from two seasons of the sitcom, so it makes sense to bring Mary in at least once before everything wraps up.
Mary has often given Sheldon a lot of trouble for how he does things (and often, with good reason) but she's also been incredibly understanding when it comes to some of the moves he's made in his relationship with Amy, because she knows that no one else would put up with her son's very specific quirks and requirements long enough to lead to any kind of serious romance. While Sheldon has done a pretty good job of maturing (slowly, but surely) during his time with Amy, the couple has still seen some difficulty this year. It wouldn't be totally unlikely for Mary to come for a visit to see how things are going with her son and (relatively) new daughter-in-law, or for either Sheldon or Amy to actually reach out to Mary for advice on navigating something in their relationship. And, I'm sure Mary would be all too glad to help.
Katey Sagal
Last, but most definitely not least. We have another actor who stepped in to play a parent when most needed: at Leonard and Penny's wedding. While Penny's dad, Wyatt, has shown up here and there on the show since Season 4, we didn't get to meet her mom, Susan, until Penny's second wedding ceremony with Leonard in Season 10. And, not only was Katey Sagal a wonderful choice, but seeing as how we haven't seen her since then, now would be a great time to bring Susan back.
Why's that, you ask? Well, because Penny and Leonard have been dealing with some issues when it comes to procreation this season. With Leonard wanting to be a father very badly, and Penny not wanting to have kids, and knowing this about herself for quite a long time. This conflict has died down somewhat since Leonard declined to donate sperm so that Penny's ex, Zack, and his wife could conceive, but there's no doubt that trouble is still bubbling below the surface. This might be a good time for Penny to reach out to Susan and actually ask for help. Even if Penny doesn't end up following her advice, it would mean that we get to see Katey Sagal at least one more time.
So, there you have it! There aren't many episodes of The Big Bang Theory left now, but I think I've given the writers some pretty solid plans for how they can bring back some (or all) of the above guest stars to make these last few episodes some of the best yet. You can see if The Big Bang Theory brings any of these fine actors back by keeping up with the series when it airs Thursdays at 8 p.m. EST on CBS.
Yennefer's apprentice, Gilmore Girl; will Vulcan nerve pinch pretty much anyone if prompted with cheese...Yes, even Jamie Fraser.
Your Daily Blend of Entertainment News
Thank you for signing up to CinemaBlend. You will receive a verification email shortly.
There was a problem. Please refresh the page and try again.