Howard Stern Shares Regrets Over NSFW Rant About Wendy Williams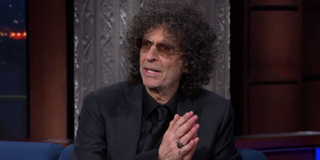 Howard Stern has a reputation for doings things nobody else in showbiz would do thanks to his years as host of The Howard Stern Show. The talk radio show has always been decidedly NSFW due to Stern's language, commentary, and even some of his guests. He's cleaned up significantly from his earlier days, but a recent broadcast proved he still has plenty of bite to him. Daytime TV talk show host Wendy Williams made some unfriendly comments about him, and he lashed out. Now, he regrets it.
Here's what happened. Wendy Williams dropped some comments on The Wendy Williams Show saying that Howard Stern had "gone Hollywood" and that it "sucks" that he's "a Hollywood insider now." She even accused him of being predictable, which is not something anybody would have said of Stern twenty years ago. Stern took enough offense at the comments that he spent about half an hour on his SiriusXM show ripping into her on a broadcast of his own show, including calling her a "cunt."
In rebroadcasts of that episode, however, the Wendy Williams rant was not included. When asked why not, Howard Stern that he "pulled it off," then revealed that he regrets what he said. Here's how he put it to Rolling Stone:
Apparently, Howard Stern thought better of his remarks after he cooled off a bit. In the grand scheme of things, there are worse things to be accused of than having "gone Hollywood." Not liking her attitude wasn't enough of a reason for him to feel he should keep his rant in the episode, so he cut it.
It probably came as a surprise to some of Howard Stern's listeners -- and Wendy Williams fans -- that Stern had such a strong reaction to her comments. Although he's not known for keeping the coolest head in showbiz, he and Wendy Williams don't seem to really travel in the same circles or work the same circuits. They're not competing in radio or TV.
At the end of the day, Howard Stern kind of didn't really "give a shit." Besides, Wendy Williams has had issues of her own to deal with, including addiction, health problems that she exposed on the air, and divorce. An ongoing feud wouldn't have done any of them any good.
So why did the rant make it into the initial broadcast? Well, as Howard Stern would go on to say, there are some downsides to airing live as opposed to pre-taping episodes:
Stephen Colbert with The Late Show on CBS and Jimmy Fallon with The Tonight Show on NBC do have a buffer zone thanks to pre-taping, although it does mean that they can't comment on news of the day that happened after taping but before the late night airing. And even then, sometimes the hosts can get into trouble, as Colbert did with some choice words about Donald Trump.
When the pre-taped late night shows do occasionally air live broadcasts, they have to deal with potential problems like guests swearing and going dangerously off-script. Howard Stern never has the luxury of editing himself for an initial broadcast. Hopefully he won't go on too many rants that he comes to regret in the future.
Resident of One Chicago, Bachelor Nation, and Cleveland. Has opinions about crossovers, Star Wars, and superheroes. Will not time travel.
Your Daily Blend of Entertainment News
Thank you for signing up to CinemaBlend. You will receive a verification email shortly.
There was a problem. Please refresh the page and try again.