Big Brother Spoilers: Why Kemi Could Be The Wild Card Season 21 Needs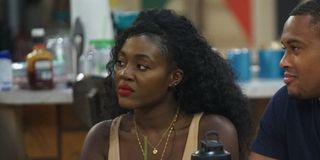 (Image credit: CBS)
Spoilers ahead for the July 11 episode of Big Brother on CBS.
Every season of Big Brother is packed with twists, turns, alliances, betrayals, and plenty of other sources of surprisingly entertaining drama. Season 21 is no exception, although this season's drama has viewers wondering if Jack's motivations are more troubling than they seem in the CBS broadcasts thanks to the live feeds, and the introduction of Camp Comeback means being voted out doesn't mean leaving the house. After the latest episode, that could be key thanks to Kemi.
Kemi has been a frequent target throughout the season, and the July 11 episode finally saw her voted out, with 10 HouseGuests voting against her and only 1 voting against Jessica Milagros, who was also up for elimination. Considering the events, eavesdropping, and conspiring of the first chunk of the episode, Kemi's elimination didn't come as a shock, least of all to Kemi. So, when she dropped her eviction speech, it was clear she had nothing to lose.
After thanking CBS, sharing her appreciation for the production people, and even saying that she loves each and every one of the HouseGuests in their own ways, Kemi said this:
Kemi isn't the first to make a dramatic speech after getting voted out by the other HouseGuests, but this one is especially interesting considering that she's sticking around the house in Camp Comeback. Her presence means that the other HouseGuests presumably won't be forgetting her speech any time soon, and she cast a lot of very open doubt on Nick and Bella.
Of course, Nick won Head of Household, so he's not in danger in the next round, and he'll probably do what he can to protect Bella, which couldn't have made Kemi too happy. Still, did she sow the seeds of discontent among the HouseGuests? And will she continue to do so, since Camp Comeback means that she'll be around for at least another couple of weeks?
I'm not sure that she'll be the one to return to the game after Camp Comeback (where she joins Ovi and David), but she could be the wild card that really mixes things up for however much longer she lasts on Big Brother.
There's also the point that Kemi kept her cool and didn't rise to what really felt like Julie Chen Moonves' bait in the after-eviction chat. When she asked Kemi how it will feel to live among ten people who voted her out, Kemi simply said "It is what it is." Not satisfied with the very measured and concise response, the host gently pushed for Kemi to keep going.
At that point, Kemi said that she wasn't surprised. The look on her face strikes me as one of a woman who isn't done playing the game on Big Brother, and I don't envy Nick and Bella for being on her bad side. Or Jack, for that matter, although I think a lot of people are rooting against Jack at this point.
The live feeds could definitely be worth watching in the coming days, and you can find them on CBS All Access (opens in new tab). New episodes of Big Brother continue to air on CBS, and it should be interesting to see how it compares to Love Island now that CBS has gone all-in on the American version of the steamy British series.
Resident of One Chicago, Bachelor Nation, and Cleveland. Has opinions about crossovers, Star Wars, and superheroes. Will not time travel.
Your Daily Blend of Entertainment News
Thank you for signing up to CinemaBlend. You will receive a verification email shortly.
There was a problem. Please refresh the page and try again.