Aunt Becky, Who? 8 Reveals From Netflix's Fuller House Season 5 Trailer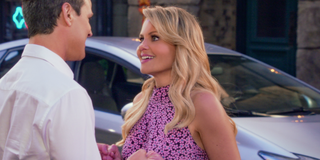 The trailer for Part A of Fuller House Season 5 has arrived! The first half of the final season is one of many TV shows coming to Netflix in December 2019. It was not too long ago that the Fuller House cast commemorated the completion of filming on Season 5. Now, fans are getting their first glimpse at Part A!
After an emotional final week of filming, Fuller House shot its last episode. Fans are on the verge of seeing all of their tear-jerking work in action. Earlier this year, it was announced that Season 5 would be the Full House spinoff's last. The final season will be divided into two parts, so Season 5's December premiere will not be the last you see of everyone!
Without further ado, here is the trailer for Fuller House Season 5 (Part A):
As you can tell, Aunt Becky is nowhere to be seen. That's the result of Lori Loughlin being let go from the final season over the college admissions scandal. There are other familiar faces from Full House still set to star in Fuller House Season 5, though. Time to get into the trailer's eight significant reveals!
Baby (?) Gibbler-Tanner
Kimmy gave birth to her brother Jimmy and Stephanie's baby last season on Fuller House. Well, the little girl comes home without a name. I am guessing she will have one by the end of the Season 5 premiere. It will be fun to find out what name Jimmy and Stephanie end up deciding on.
DJ Wants To Marry Steve
According to Kimmy, DJ wants to marry her high school sweetheart, Steve. I am all for this! DJ and Steve's relationship goes all the way back to Full House, and it would be a beautiful way to bring their story full-circle. Fuller House can give them the happy ending that Full House did not quite deliver in its finale.
Stephanie and Jimmy Are Still Engaged
In other couple news, Stephanie and Jimmy are still on their way to getting married. The two became engaged in last season's Fuller House finale. Candace Cameron Bure has teased wedding bells ringing in the show's final season. However, Season 5's trailer does not give fans a glimpse at any hardcore wedding planning. Stay tuned!
Kimmy And Fernando May Still Be Engaged
Kimmy and Fernando's relationship status gets curiously addressed in the trailer for Fuller House Season 5, Part A. Kimmy makes a comment that sounds like she is not engaged, leading a confused DJ to remind Kimmy that she is. Kimmy says she cannot remember if they are divorced or engaged to which Stephanie says, "I think it might be both." Find out which it is!
Lisa Loeb Is Guest Starring
Gossip Girl is not the only show that brought Lisa Loeb in for its final season! Fuller House is bringing the singer-songwriter on too! Based on the trailer for Season 5, it seems like Loeb will be playing a version of herself whose pet is a patient at the vet clinic. DJ to the rescue! This should be cute.
Stephanie And Jimmy Will Have Issues
New parents Stephanie and Jimmy are going to have to work through some things in Fuller House's final season. At one point in the Season 5 trailer, Stephanie laments that she feels like she is doing everything alone. While DJ reassures her sister, something may have to give so Stephanie and Jimmy's relationship can survive.
Uncle Jesse, Joey, And Danny Are Back!
The original trio is back! Danny, Uncle Jesse, and Joey are shown in the trailer for Fuller House Season 5. I am so happy to see them together! Their chemistry made Full House and, without it, I do not think the show would have survived for as long as it did. Let alone gotten a spinoff twenty years later.
Stephanie Has Become DJ
At the end of the Fuller House trailer, Stephanie and DJ share a heartfelt yet hilarious moment with Kimmy, wherein DJ recognizes that her sister has become her. Stephanie denies it with DJ's trademark "Oh Mylanta!" which pretty much seals the deal. DJ is a wonderful daughter, mom, friend, sister, and now-aunt, so it is all good!
It is neat to get a sense of where Fuller House will be taking its characters in the final season. I hope that Kimmy, DJ, and Stephanie all get the endings they want, for now. Hope for another spinoff in the future remains personally alive. Thankfully, this is the first half of that Season 5 journey. Time to go full-out!
Fuller House Season 5 Part A will be one of this winter's premieres. It premieres December 6 on Netflix, along with other new content. The final episodes will be available to stream on Netflix (opens in new tab) in 2020.
Like a contented Hallmark movie character, Britt happily lives in the same city she grew up in. Along with movies and television, she is passionate about competitive figure skating. She has been writing about entertainment for 5 years, and as you may suspect, still finds it as entertaining to do as when she began.
Your Daily Blend of Entertainment News
Thank you for signing up to CinemaBlend. You will receive a verification email shortly.
There was a problem. Please refresh the page and try again.