Jared Padalecki's Walker, Texas Ranger Casts A Pretty Little Liars Star For Key Role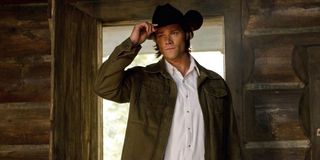 Supernatural's Jared Padalecki secured a new job when The CW ordered the Walker, Texas Ranger reboot to series last month. The series has been rounding out its core cast, starting with The 100's Lindsey Morgan as Walker's partner Micki, one of the first female Texas Rangers in history. Now, Walker has cast Pretty Little Liars star Keegan Allen in a key role.
Keegan Allen, who played Toby Cavanaugh on Pretty Little Liars, is joining the Walker, Texas Ranger reboot as Liam Walker. Per Variety, Liam is Walker's gay and conservative younger brother. Recently promoted to assistant District Attorney, Liam has taken care of Walker's son and daughter during his two-year absence and has sacrificed a lot in his life to provide for and be there for his family.
Walker is a new take on the classic Chuck Norris series. Jared Padalecki stars as the series' titular character, a widower who has been undercover for the last two years. With his children in the care of his brother Liam, Walker will have to adjust upon his return to Austin, Texas and will be jealous of Liam's closeness with his children.
Naturally, Walker will have a lot to catch up on after being gone for so long. He'll probably have to work on his relationship with family members, including his kids, but Liam will be there to offer some tough love to his older brother whenever the need arises.
Keegan Allen's Toby was present on Freeform's Pretty Little Liars for its entire run and was roped in by the elusive "A" to keep quiet about his mother's suicide. Suffice it to say that the Walker character will be a much different role for Allen and it will be interesting to see the dynamic between him and Jared Padalecki's Cordell Walker. (As an aside: it'll be weird to watch Padalecki play someone else besides Supernatural's Sam Winchester after 15 seasons in the role.)
In addition to Walker, Texas Ranger and Pretty Little Liars, Keegan Allen has had guest starring roles on TV's Young & Hungry, voiced a character in the animated series Rick and Morty, and appeared in two episodes of Major Crimes and the anthology series What/If alongside Jane Levy.
Walker joins The CW's line-up alongside Superman & Lois, which is currently the only other new show that has been ordered to series by the network. The CW, known for its penchant for superhero shows like The Flash and Supergirl, has also ordered a pilot for David Carradine's Kung Fu reboot.
Stay tuned for more information about the Walker, Texas Ranger reboot. In the meantime, be sure to take a look at our 2020 midseason schedule for updated premiere dates and times. Be sure to check back with CinemaBlend for more in TV and movie news.
Your Daily Blend of Entertainment News
Thank you for signing up to CinemaBlend. You will receive a verification email shortly.
There was a problem. Please refresh the page and try again.