Lucifer Is Getting Closer To Season 6 At Netflix, But Here's What Needs To Happen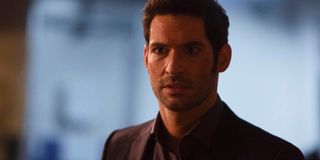 Lucifer's television journey has been one hell of a roller coaster ride. The beloved series originally ran for three seasons on Fox before being cancelled. Netflix then picked up Lucifer for two more seasons, with Season 5 being touted as its last. However, Netflix was reportedly in talks with Warner Bros. to possibly uncancel the series and bring it back for a sixth season. As Lucifer is getting closer to Season 6 at Netflix, there's one thing that needs to happen before the show can move forward.
Let's start with the good news. Ildy Modrovich and Joe Henderson have both signed on to remain Lucifer's showrunners should Netflix decide to renew the series for Season 6. The bad news? Series star Tom Ellis has yet to close a deal to return for a potential sixth season. Per TVLine, negotiations between Ellis' team and Warner Bros. Television are still ongoing, and the outcome is looking really good. At the time of this writing, neither Netflix nor Warner Bros. representatives have commented on the news.
It's a relief to know that Tom Ellis will likely return because there would be no Lucifer without him. It comes with the territory of playing the titular character, after all. With the showrunners back on board for a potential Season 6, things are really looking up for fans who were clamoring for more of the devilish show. That said, it's best to keep in mind that Netflix has not confirmed Season 6 or Tom Ellis' involvement beyond Season 5 just yet.
After rescuing the series from cancellation hell, Lucifer Season 4 became one of Netflix's most-binged shows when it debuted. So, it came as no surprise that the streaming service had renewed the series for Season 5. At the time of the renewal, Lucifer's fifth season was announced as being the show's last.
That upset the show's very passionate and vocal fanbase, who quickly picked up their pitchforks to petition for another network to pick up the show for Season 6. However, Ildy Modrovich explained that Netflix cancelling the show after Season 5 wasn't a bad thing and that fans shouldn't push for more. Oh, how things change!
Fans did get to watch Tom Ellis' Lucifer mingle with other DC TV stars during the Arrow-verse's "Crisis on Infinite Earths" crossover. In the second episode of the five-part crossover, Lucifer was confirmed to exist on Earth-666, one of many earths in the multiverse. Ellis' character played a key role when he helped John Constantine and company enter Purgatory to save Arrow's Oliver Queen.
Lucifer Season 5 is set to premiere on Netflix at some point this year, with an expanded episode count to boot. Stay tuned to CinemaBlend for more updates on the series. In the meantime, be sure to check out our 2020 midseason schedule for more on what to watch.
Your Daily Blend of Entertainment News
Thank you for signing up to CinemaBlend. You will receive a verification email shortly.
There was a problem. Please refresh the page and try again.