WTF, Tiger King's Carole Baskin Tried (And Failed) To Be In Justin Bieber's New Music Video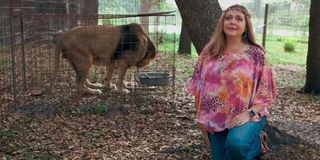 Following its release in March, Tiger King: Murder, Mayhem and Madness became one of the most popular docuseries this year. The subjects of the documentary — which primarily followed Joe Exotic — were the center of attention for weeks after the show premiered on Netflix. Arguably just as famous now as Joe Exotic is Carole Baskin, the owner of Big Cat Rescue, and Exotic's long-time rival. Baskin recently entered WTF territory after she tried (and failed) to be in Justin Bieber's new music video.
Who knew that Carole Baskin was such a big Justin Bieber fan? The singer recently collaborated with Ariana Grande and recorded a new quarantine-themed song together, called "Stuck With U." Naturally, they planned to release a music video to go along with it and invited their fans to submit their own videos to be included. According to TMZ, Baskin said she made the video after some of Bieber's friends asked her to do so and she hoped it wouldn't "attract too many of the haters."
The video submission in question was brief and saw Carole Baskin and her husband Howard dressed up in animal print robes, dancing along to "Stuck With U" while holding onto their cat. Justin Bieber posted the seconds-long clip to Twitter, which has now garnered over 680.8k views. Unfortunately, Baskin's dancing video did not make the final cut, but she was happy that Bieber ultimately decided to share the video online. You can watch a dancing Baskin below!
In a reply to Justin Bieber's tweet, Ariana Grande went on record to say that she "did not allow or approve this clip to be in the actual video," but that its existence in the world was pretty "unique." That's a fairly good assessment of Carole Baskin's video, which also included her and Howard wearing lion masks atop their heads.
To me, the video's failure to make the final cut makes absolute sense. After Tiger King, Carole Baskin was too recognizable a person and the video's inclusion would have drawn too much attention, taking away from the song itself, as well as other fans' video submissions. Justin Bieber releasing the clip allowed others to see it anyway, so it all worked out in the end, random as it was.
Carole Baskin was most recently tricked into giving her first post-Tiger King interview by YouTube pranksters Josh Pieters and Archie Manners. The Big Cat Rescue leader had avoided doing interviews about Tiger King and, though she found out the prank interview wasn't actually for The Tonight Show Starring Jimmy Fallon, Baskin had a "good laugh" about it.
Tiger King: Murder, Mayhem and Madness is currently streaming on Netflix. Stay tuned to CinemaBlend for updates. For more on what to watch, be sure to check out our 2020 summer TV premiere guide.
Your Daily Blend of Entertainment News