Why The Bachelor's Madison Prewett Is Staying Single After Her Time On The Show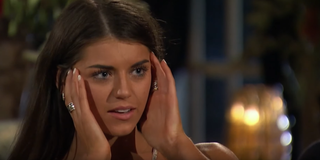 Somehow, the most recent season of The Bachelor has left me feeling both like it happened many moons ago, and like the show wrapped up with that shocking and very hard to watch finale just this week. After a truly messy several weeks of watching Peter Weber try to find love, Season 24 of the series saw Weber and Madison Prewett (who had dumped him in the final week) come together on the live show and decide to give things another go. Unfortunately, that was not to be (for reasons I'll remind you of later), but now we know that Madi is taking some me-time after her experience, and why she's made that decision.
Bachelor Nation was very divided on Madison during the later stretch of The Bachelor, which led to the formerly drama-free contestant becoming a hot topic of conversation during every episode as we got closer to seeing which remaining lady Peter would choose. Fans went through those last few episodes going through some serious love / hate / I don't know / oh, hell now I just feel sorry for her feelings for Madi, and it's clear the journey took a toll on her as well.
Madison recently spoke with Elite Daily about how she's caring for herself during these strange and often scary times, and she revealed that she's going it alone right now, with no plans to date (even via video chat) for a while. Here's what Madi had to say:
Wow. Alright, I can readily admit that I had my own struggles with Madison Prewett as I watched her make some choices which seemed completely baffling on The Bachelor earlier this year. But, you know, what she said in her interview is completely reasonable and makes me like her a lot more than I did by the time that disastrous After The Final Rose episode aired.
I mean, if you have serious hate for the young woman (cough Barb Weber cough) then you might just see this as a play to elicit positive emotions from us, but I happen to believe that Madi is truly concerned with making sure that she's in the right place before she moves on and tries to start dating again. Not enough people take the time to process a breakup (or other big life changes, for that matter) before jumping into the next thing, which generally leads to disaster all over again. At least Madi's aware enough to know she needs time, and not afraid to take it.
Alright, I've already invoked the Bachelor mom of all Bachelor moms, so let's just go ahead and get into it. As I said, Madi made some odd decisions last season, including signing up for a show where one of the men who was clearly in the running to lead said show quickly became known as Peter "Windmill Sex" Weber, because he had sex with Hannah Brown four whole times during their fantasy suite date on her season the The Bachelorette in 2019.
Of course, that only became an issue when Madi told him right before their fantasy suites week, that she'd be very uncomfortable with him having sex with either of the other remaining ladies (Victoria Fuller and Hannah Ann Sluss). Then, in the midst of maybe-we-can-have-sex-now week, Madi finally (FINALLY) told Peter that she was a virgin and waiting until marriage, and said she'd probably leave if she found out he did go ahead and do sexytimes with someone else.
Peter had done sex stuff (obviously), and he came clean about it to Madi (good boy), but then she was torn over whether or not to actually take her leave from him and the show. She did eventually come to the rose ceremony, but after another tense (oh, so very tense) meeting with his family (Barb!), she finally dumped Peter, leaving him to just go ahead and propose to Hannah Ann, because why not, I guess.
Fans will remember that it did not end there, though. At the ATFR show (which was live, y'all), Peter and Madi said they had reconnected after Hannah Ann realized Peter was...not great, and broke off their engagement. They wanted to give romance the old college try again, but, yo, Barb Weber was not in the mood for that shit. And, Mama Weber told everyone on live TV that Madi and her son would "have to fail to succeed," with however you decide to take her meaning not being good on the support-from-his-family front at all. They then broke up two days later.
Heavens above. If Madison Prewett doesn't need some time to set herself straight after all of that, then no one does...ever! This is especially true, considering that, not long after their breakup, Peter started dating another lady from his season who made it pretty far, Kelley Flanagan (whom Barb just looooooves), so that's got to sting at least a bit. Luckily, it really does sound like Madi is on the right track, though, and she'll probably be back in the dating game before we all know it.
All new Bachelor Nation things are on hold for now, including Clare Crawley's 2020 season of The Bachelorette, but the trip down memory lane-filled series, The Bachelor: The Most Unforgettable – Ever!, is coming on Monday, June 8 at 8 p.m. EST on ABC. In the meantime, be sure to take a look at what's coming to TV this summer!
Bachelor Nation, Gilmore Girl; will Vulcan nerve pinch pretty much anyone if prompted with cheese...Yes, even Jamie Fraser.
Your Daily Blend of Entertainment News
Thank you for signing up to CinemaBlend. You will receive a verification email shortly.
There was a problem. Please refresh the page and try again.