Glee's Lea Michele Apologizes After Getting Called Out For On Set Behavior By Co-Star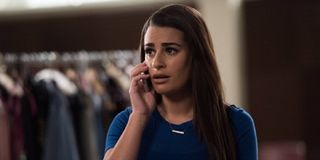 Glee's Lea Michele found herself in hot water recently. After tweeting out support of the Black Lives Matter movement, Michele's former co-star Samantha Ware called her out, alleging that Michele made Ware's first television gig a "living hell," and that Michele's "traumatic microaggressions" caused Ware to rethink being an actress altogether.
Samantha Ware wasn't the only former Glee star spotlighting Lea Michele's alleged behavior. Zoey's Extraordinary Playlist star Alex Newell, who is also an alum of the Fox show, responded with a gif of RuPaul pulling out the binoculars. Meanwhile, Michele's former Mayor co-star and Community alum Yvette Nicole Brown responded in support of Ware, tweeting that she "felt every one of those capital letters." Now, Michele has finally broken her silence and has issued an apology for her on-set behavior. Here's part of the apology Michele posted to Instagram:
Lea Michele went on to say that she's a couple of months shy of becoming a mother and that the mistakes she's made in the past will be lessons she passes along to her child. Michele said that she's "very sorry" and will make sure to "be better." You can read the actress' entire apology post below.
The allegations of Lea Michele's on-set behavior towards her co-stars even landed her in hot water with HelloFresh, the recipe kit delivery service. The company has terminated its partnership with Michele after learning of her alleged behavior, and that decision was effective immediately. A representative for HelloFresh made the announcement in response to another tweet calling for the company to cut ties with Michele.
Other Glee alum also responded to Samantha Ware's claims, albeit more passively. Shortly after Ware tweeted the allegations, Amber Riley, who played Mercedes, tweeted a gif of herself looking sideways and drinking from a mug. Meanwhile, Supergirl's Melissa Benoist, who played Marley, liked Ware's post on Twitter, as well as Riley's gif tweet and another that included a screenshot of HelloFresh terminating the partnership with Michele.
Back in 2014, rumors swirled that Lea Michele and Glee co-star Naya Rivera were feuding. In Rivera's 2016 memoir, Sorry Not Sorry: Dreams, Mistakes and Growing Up, she alleged that Michele didn't speak to her for all of Glee Season 6.
Stay tuned to CinemaBlend for updates on this story.
Your Daily Blend of Entertainment News
Thank you for signing up to CinemaBlend. You will receive a verification email shortly.
There was a problem. Please refresh the page and try again.