Mark Hamill Had A Secret Mandalorian Cameo That You Probably Missed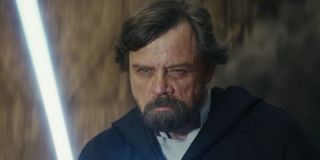 Mark Hamill is a pop culture icon thanks to his years in the Star Wars saga, and it turns out that he can add one more Star Wars project to his resume. The Star Wars legend had a secret cameo on Disney+'s The Mandalorian, but he stuck to his guns about not playing Luke Skywalker again. He was another character entirely for The Mandalorian, and fans probably didn't notice at the time. Hamill voiced a droid.
To be specific, Mark Hamill voiced a droid known as EV-9D9. The Mandalorian boss Jon Favreau revealed Hamill's secret cameo in the eighth and final episode of Disney Gallery: The Mandalorian, which was based on Star Wars connections. Favreau shared that Hamill "came in and voiced the droid who had appeared in Return of the Jedi."
In Return of the Jedi, 9D9 was the droid who assigned R2-D2 and C-3P0 after they arrived at Jabba's palace as Luke's "gift" to the Hutt as part of the plot to rescue Han Solo. Although Jabba himself didn't survive the events of Return of the Jedi thanks to Leia, 9D9 was still around on Tatooine by the fifth episode of The Mandalorian Season 1, although with a change of job. Take a look!
Yes, by the time The Mandalorian kicked off, EV-9D9 was working as a bartender at the Mos Eisley cantina, which marks a big change from the cantina circa A New Hope, when droids weren't even allowed inside! EV-9D9 didn't have much of a role, but the droid informed Mando that there were no bounty hunting jobs available when he entered the cantina to inquire after work.
Still, based on Mark Hamill's other voice work (including the Joker in various Batman series, Skips on The Regular Show, and the big bad of Avatar: The Last Airbender), I think EV-9D9 is recognizably his voice. That said, I also totally didn't recognize it as Hamill's voice until I knew to listen for it. Kudos to The Mandalorian for finding a way to include Star Wars' most iconic actor without making viewers think of Luke Skywalker, and to Hamill for participating!
Mark Hamill has had good things to say about The Mandalorian, so it makes sense that he'd be willing to lend his voice to the first live-action Star Wars series. He praised how The Mandalorian is able to get back to the basics of Star Wars, and even weighed in on the reports that Boba Fett is coming to The Mandalorian Season 2.
Like many of us, Mark Hamill had been under the impression that Boba Fett was being digested in a Sarlacc pit ever since Return of the Jedi, but he shared that he believes Jon Favreau and Star Wars animation guru Dave FIloni are the right people to pull off the return of Fett.
If you want to check out Mark Hamill's secret voice role in The Mandalorian Season 1, EV-9D9 can be found in the fifth episode. The full first season is currently available streaming on Disney+, and the second season is expected to debut in the fall. For some viewing options sooner than October, check out our 2020 summer TV premiere schedule!
Resident of One Chicago, Bachelor Nation, and Cleveland. Has opinions about crossovers, Star Wars, and superheroes. Will not time travel.
Your Daily Blend of Entertainment News
Thank you for signing up to CinemaBlend. You will receive a verification email shortly.
There was a problem. Please refresh the page and try again.