Danny Masterson And The Church Of Scientology Have Similar Cases Playing Out In The Court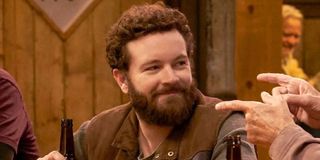 Danny Masterson is currently out of jail after posting more than $3 million in bail following his arrest on charges of rape. He only spent a few short hours in jail before posting bond, but an arraignment is currently scheduled for September 18, during which Masterson will face the charges for the first time. However, it's not just Masterson that has been dealing with legalities related to the incidents: The Church of Scientology is dealing with its own lawsuit.
The other lawsuit has been ongoing since 2019 and involves four women who have claimed the Church of Scientology was involved in "conspiracy to cover up that Daniel Masterson sexually assaulted four young women," according to documentants uncovered by The Blast.
Danny Masterson and his wife Bijou Philips are both noted Scientologists. The women who are involved in the case against The Ranch star were all former members of the Church of Scientology; each state the Church of Scientology tried to cover up what happened. The cases harken back to the early 2000s after which Masterson married Philips in 2011 after getting engaged to her a couple of years previously.
As part of the lawsuit, one of the women, Danny Masterson's exes, Chrissie Bixler, has accused the Church of Scientology of various forms of harassment, including running her off of the road, targeting her credit card and more. In one notable incident, she also says her dog died during this time due to traumatic injuries and she believes it is related to these other incidents.
Another plaintiff, Marie Bobette Riales, says she was similarly targeted. In her report, she says a window was broken in her child's bedroom and her food truck was reportedly vandalized. Two other women have claimed similar tactics to these. In each case, the incidents happened after the women came forward with allegations against Danny Masterson.
Earlier in 2020, the Church of Scientology had said that a Danny Masterson stalking suit – which even then alleged members of the Church had stalked and invaded their privacy after making complaints about Masterson's treatment of them – should have gone to religious arbitration. The argument the Church of Scientology made at the time was that the four women who filed suit were subject to "ecclesiastical justice procedures" when they signed up to be a part of the church, per THR.
The Church of Scientology has denied each of these claims, but the civil lawsuit is also still-unresolved. Meanwhile, Danny Masterson was arrested on 3 counts of rape by force or fear in mid-June after allegations regarding the assaults initially came out in 2017. The actor had since been written off of Netflix's The Ranch and the arrest itself comes after the LAPD long-investigated reports he had sexually assaulted multiple women in the early 2000s. Specific events cited during his arrest occurred back in 2001 and 2003 and if convicted, he could face up to 45 years in prison. We'll keep you updated as both of these cases continues to play out in the courtroom.
Amazing Race & Top Chef superfan with a pinch of Disney fairy dust thrown in. Theme park junkie. If you've created a rom-com I've probably watched it.
Your Daily Blend of Entertainment News
Thank you for signing up to CinemaBlend. You will receive a verification email shortly.
There was a problem. Please refresh the page and try again.