How Watching Harry Potter Got One Doom Patrol Star Ready For Season 2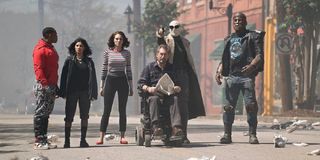 Dorothy Spinner's introduction for Doom Patrol Season 2 has added another psychologically complex layer to the standout superhero show. Not only is her bright disposition the complete opposite of how the rest of the team functions, but her arrival has also pushed the Chief, Niles Caulder, to see things a bit differently than before. For actress Abigail Shapiro, the act of playing Dorothy has had its own unique set of challenges, and she recently explained how watching Harry Potter actually prepared her for Doom Patrol Season 2.
In addition to memorizing her lines and crafting a connection between Dorothy and the other Doom Patrol characters, Abigail Shapiro's first official TV role had her undergo a facial transformation that included wearing fake teeth, among other things. Speaking with CinemaBlend, the actress discussed what it was like acting with the faux choppers while also having to craft Dorothy's English accent. Yes, it involved the magic of Hogwarts. Here's what Shapiro told CinemaBlend:
Now that's what you call dedication! I'm no expert in accents, but I think Abigail Shapiro's Dorothy sounds pretty convincing if you don't know where she's from. Watching and echoing the Harry Potter movies isn't a bad way to practice either, considering it features a variety of accents from actors of all ages. That's hours of research wrapped up in entertainment right there. Sure, the Narnia trilogy works, too, but come on.
Wearing fake teeth wasn't the only thing Abigail Shapiro had to get used to while becoming Doom Patrol's Dorothy. She had to wear a lot of prosthetics as well, resulting in quite a bit of time spent sitting in the make-up chair before heading to set. How long did it take to put on the character's make-up? Here's what Shapiro had to say about the transformative process involved with becoming Dorothy:
That sounds pretty intense, as well as informative, and it translates really well onscreen. Abigail Shapiro also revealed that "there weren't too many acting challenges" that came up while wearing all the make-up and prosthetics. At least not any more than usual, which is a relief. I mean, acting opposite Timothy Dalton in any capacity has to be a trip.
There's still a lot viewers don't know about Dorothy and her imaginary friends, too. (Dare we call them her Patronuses?) In any case, her immense powers are incredibly dangerous and uncontrollable at times, and could very well lead to an explosive endgame for Season 2. Either way, the next few episodes of Doom Patrol are bound to give audiences more to bite down on when it comes to the newest addition to the series.
A new episode of Doom Patrol Season 2 is released every Thursday on HBO Max and DC Universe. For more on what to watch in the meantime, be sure to check out our 2020 summer TV premiere schedule.
Your Daily Blend of Entertainment News