What To Stream If You Like Netflix's Floor Is Lava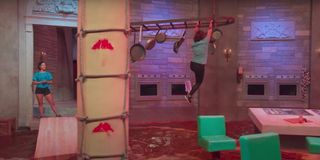 Netflix is quickly becoming the go-to source for fun reality TV shows. It made people believe in love again with Love is Blind, and then it made fans addicted to the drama with Too Hot To Handle. Now Netflix has another streaming reality TV and game show hit with Floor is Lava. Inspired by a children's game, the rules are simple: don't fall into the lava. It's a simple and fun show to watch when you're trying to decide what to stream.
Floor is Lava is one in a long line of competition game shows that take a classic concept and make it into an extremely entertaining series. It's reminiscent of classic series like Legends of the Hidden Temple and (to a lesser degree) Double Dare. It's easy to binge this fun series in one sitting, so you may now be searching for what to stream next, and lucky for you all the stream services available offer plenty of options.
American Ninja Warrior
American Ninja Warrior is a series where athletes, everyday people, and even actors complete an obstacle course that tests their physical strength, bravery, and endurance. Each episode gives a little bit of the history of the person, and then shows them complete the obstacle course. Based on their score, they are either eliminated or go to the next round.
Floor is Lava takes more of a goofy approach with presenting the challenges and contestants, but American Ninja Warrior pulls on the heart strings with its approach to storytelling. Despite their different ways of presenting these stories, both series make you cheer on the contestants. They get you invested in their success. Floor Is Lava and American Ninja Warrior are also both shows that make you wonder if you could really complete these complex courses. I know I couldn't, but I like to believe that I could.
Stream it on NBC here.
Ultimate Beastmaster
Ultimate Beastmaster is basically Netflix's own version of American Ninja Warrior. However, it has a country twist, so it's like American Ninja Warrior meets the Olympics. Several different countries are represented, including the United States, Mexico, France, and South Korea. These countries have a group of athletes who compete in each heat. The winning athlete of each episode advances to the finals.
Ultimate Beastmaster and Floor is Lava combine humorous commentary with real suspense. You stay on the edge of your seat trying to see if these people can complete their tasks and accomplish their goals. In both series, I kind of rooted for the people I felt a kinship with most. For example, the mother and twin siblings who competed in Floor Is Lava appealed to me more than the triplets featured on the same episode, and despite everything, I usually root for the American team on Ultimate Beastmaster.
Stream it on Netflix here.
Total Wipeout
Total Wipeout, now known as Wipeout, involves contestants running through obstacle courses that involve many crashes and face plants. If one competitor can successfully navigate the course, she or he takes home $50,000. Total Wipeout is another series that uses comedy more than the "triumph of the human" spirit style to provide entertainment.
Total Wipeout and Floor is Lava both are goofy series that involve obstacle courses. They also both kind of make you laugh (and sometimes cheer) when someone completely fails. Total Wipeout and Floor is Lava also both take lighthearted approaches to their challenges. Neither of them ever reach a level of suspense that some other reality competition shows reach.
Stream it on Hulu here.
Awake: The Million Dollar Game
Comedian James Davis and Netflix torture the Awake: The Million Dollar Game contestants by making them stay up for 24 hours. While they're exhausted from no sleep, they also have to spend all night counting coins. They then must guess how many they think they have. The following day, they must compete in a series of challenges. These challenges aren't particularly complex, but the lack of sleep makes them nearly impossible.
After each round players are eliminated until there is only one player left. That final player then has to make important decisions based on the accuracy of his or her own counting and guessing skills. Floor is Lava and Awake: The Million Dollar Game both have simple concepts that are made much more complicated by tiny barriers. For Awake, the barriers are the sleep deprivation, and for Floor is Lava, it's the design of each obstacle course.
Stream it on Netflix here.
Minute To Win It
Minute To Win It puts teams of contestants through a series of 60 second tasks. If they complete all ten tasks without losing all their lives, they win $250,000. The tasks are simple in construction but made harder by the countdown. Guy Fieri hosted the first version, and Apolo Ohno took over after him.
Minute To Win It and Floor is Lava both rely on teams to get through each challenge. The challenges also get harder as the players advance. Both shows force the contestants to use physical and mental skills in order to complete their challenges. Time also plays a big factor in both series. In Minute To Win It, they only have 60 seconds to finish each task, and in Floor Is Lava, the longer they take, the harder it becomes to reach the end.
Stream it on Netflix here.
Flinch
In this British game show, the hosts select players to represent them. The players then go through a series of tasks designed to scare or cause them unexpected discomfort. The object of the game: don't flinch. Every time a player flinches, their host partner racks up points. Each round, the host picks new players to represent them. The host with most accumulated flinches must then endure their own personal hell, some task designed to make them flinch.
Flinch is a bit chaotic compared to Floor is Lava. There aren't any real prizes, except bragging rights, but both series kind of understand their ridiculous nature. Yes the prize money is nice but both series put a heavy emphasis on having fun and enjoying the journey.
Stream it on Netflix here.
Ellen's Game Of Games
Ellen DeGeneres hosts Ellen's Game of Games. The first round puts contestants selected from the audience head-to-head in a series of games, the winners of those four rounds advance to the second round. The second round involves a general series of trivia knowledge questions. The winner of that round goes to the final round where they can win $100,000 by rapidly naming ten celebrities in a certain category.
Floor Is Lava and Ellen's Game of Games both involve contestants working through a series of barriers to reach the final point. Floor is Lava's final point is the point where the obstacle course ends. Ellen's Game of Games' final point is the last round. Ellen's Game of Games involves challenges, memory, and trivia, but Floor is Lava is only challenges. This makes Ellen's Game of Games more skilled based, and Floor is Lava more athleticism and luck driven. If you enjoy watching everyday people complete tasks, then both shows should work for you.
Stream it on Netflix here.
Don't
Don't is a new summer series hosted by Adam Scott and narrated by Ryan Reynolds. For the competition, a family must compete in a series of challenges to bank money. The challenges involve things that people are told to not do, like don't look back, don't play catch in the house, and don't make me turn the car around. Each round, the family can bank a certain amount of cash to add to their grand prize fund.
If you really enjoy Floor is Lava commentary, then you should get even more of a kick out of Ryan Reynolds' hilarious commentary. Both series also are made or broken by the contestants. If a family or team is fun and engaging, you're invested in how they perform.
Stream it on Hulu here.
The Game Of Life
Remember the famous board game The Game of Life? Well it was once a game show that aired in 2011 and 2012, and was hosted by Frank Nicotero. In The Game of Life series two teams of families ride around a digitally simulated board game to answer questions to determine if they continue on to the next section.
The team who gains the most points after two rides go on to spin a wheel to gain bonus prizes. Then the teams have to complete a task, and the team who completes it the fastest and gains the most points spins the wheel for the grand prize. One reason that Floor is Lava has become a Netflix hit is because it is a family friendly show. If you need some more series to watch as a family, then The Game of Life is a good option.
Stream it on Tubi here.
The Almost Impossible Game Show
The Almost Impossible Game Show puts contestants through a series of five games. Each contestant receives 50 game lives at the start. They must complete the challenges without using up all their lives, and they have a 15 limit per round.
This UK series is quirky, enjoys making fun of the contestants, and actually has really challenging tasks. Floor is Lava is a lot more big budget compared to The Almost Impossible Game Show. but they definitely have similar styles, especially in terms of the witty commentary and joy of poking fun of the players.
Stream it on Tubi here.
Supermarket Sweep
Supermarket Sweep is a classic game show that has three sets of contestants answering grocery product related questions to accumulate points that will be converted into time. One half of the team then runs around a grocery store to gather as many high priced items as possible. The team with the most points then goes to the final round where they can win $5,000 by following riddles to the location of the prize money.
Supermarket Sweep began in 1965, but only two seasons of the 90s and 2000s version are available to stream on Amazon Prime. This version was hosted by David Ruprecht.
Floor is Lava and Supermarket Sweep are both fun concept game shows that's appealing enough to work in any decade. Supermarket Sweep could experience a reboot tomorrow, and still be something that many would tune into. The same goes for Floor is Lava. It could have premiered 20 years ago and likely been a hit series.
Stream it on Amazon Prime here.
The entire first season of Floor is Lava is available to stream on Netflix. It's one of the many great original game shows available on this streaming giant.
Your Daily Blend of Entertainment News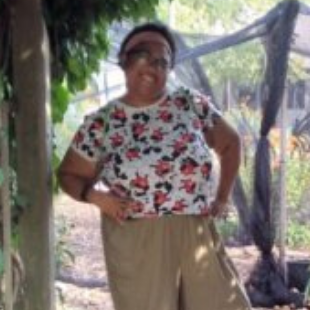 Spent most of my life in various parts of Illinois, including attending college in Evanston. I have been a life long lover of pop culture, especially television, turned that passion into writing about all things entertainment related. When I'm not writing about pop culture, I can be found channeling Gordon Ramsay by kicking people out the kitchen.