Yellowstone Season 3 Trailer: 8 Things You Might Have Missed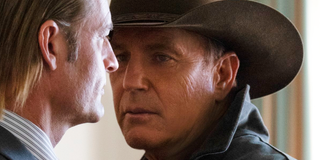 (Image credit: Paramount Network)
It is here! The trailer for Yellowstone Season 3 has arrived and brought many jaw-dropping hints and lots of compelling innuendo with it. Packing a fireworks display of snippets into one minute and forty-five seconds, the hit Paramount Network drama is showing no signs of letting up on the spellbinding intrigue in this Kevin Costner-led series.
There is so much packed into the trailer for Season 3 that you might have missed a few things. Before wading into it all, it is worth mentioning that Yellowstone's return is already set, with a renewal for a fourth season getting the all clear from Paramount Network. It is a great time to be a Yellowstone fan.
Without further teasing, it is time to dig into the trailer for Season 3, which reveals new alliances, rivalries, and of course, a trademark Beth Dutton threat. Would it be another season of Yellowstone without one? Exactly. While there is not a lot in the way of teasing more scenes between Beth and her sister-in-law, Monica, I am hopeful there will be more of that in Season 3.
Here is what fans may have missed in Yellowstone's Season 3 trailer:
Not Much Time Has Passed Since Last Season
This was pretty obvious from the previously released Season 3 scene between Beth and newcomer, Roarke (Lost's Josh Holloway). And, the trailer for Season 3 hints that Yellowstone will be picking up shortly after last season, with no significant time jump to be found.
All of Beth's scenes show her still recovering from the injuries she suffered in last season's brutal attack. It seems everyone will still be working through Yellowstone's previous installment.
Tate Yelling May Not Be What It Seems
As shown earlier in the Season 3 trailer, Monica and Tate are resting together in hers and Kayce's bedroom at the ranch. At the 1:31 mark, the Yellowstone trailer shows Tate screaming.
My guess is that Tate is reacting to a nightmare and not an actual intruder. Fans will recall, Kayce's son went through a horrible ordeal towards the end of Yellowstone's last season. So, it makes sense for him to still be healing from that in Season 3, meaning that bad dreams wouldn't be unusual.
Beth May Call Jamie "Evil"
On Yellowstone, Beth has never been one to hide that she absolutely loathes her brother, Jamie. That has clearly not changed in Season 3, especially if Jamie is the one that Beth calls "truly evil."
We cannot see who she is talking to, but Jamie is the next person shown after that trailer moment. She makes her comment at the 1:24 mark, and the sun is shining, whereas Jamie is shown in a dark room with a roaring fire. So, the scene of Jamie is clearly not the same one as Beth's, but considering how much she hates him, I'm still willing to put money on the fact that she's talking about him.
Jamie Says All He Does Is Kill
Jamie Dutton has several outbursts in Yellowstone's Season 3 trailer, and none are more explosive than at the 1:26 mark. It is at that point when Jamie screams, "All I do is kill!" which brings up several questions.
Who is Jamie screaming at? (My best guess is Beth.) Does this have to do with the mysterious origins of Beth's hatred for Jamie? Perhaps most shockingly, does Jamie's comment mean he has killed more than once? I am ready for some answers, Yellowstone!
John Does Not Trust Jamie
If there is one thing clear in Yellowstone's Season 3 trailer, it is that John still does not trust his eldest son, Jamie. In the trailer, Jamie assures his dad that he will not betray him again, which is a reference to Jamie's treacherous interview.
In the Season 3 trailer, John responds that they are about to find out what his word is worth. John's skepticism hints that his distrust and lack of love for his son (which started pre-Yellowstone), will be ongoing, but Jamie will still be trying to fix it.
Beth And Roarke May Be Enemies, After All
When Yellowstone first gave fans a look at Beth and Roarke's dynamic in Season 3, I thought the show may be setting up a love triangle. But, not so fast, because Beth and Rip's relationship appears to be safe from any more third-party interference.
Beth and Roarke exchange some thorny dialogue throughout Season 3's trailer, and at one point, she refers to him as a "trailer park" and herself as a "tornado." It sounds like the battle lines are drawn. Will they remain in place?
Someone Attacks Monica
Last season, Yellowstone scared fans with ominous hints at what the Beck brothers had planned for Monica Long-Dutton. Thankfully, she survived everything. Fast forward to the trailer for Season 3, and Yellowstone has me worried again.
At the 1:25 mark, Monica can be seen appearing to fend off some attacker. Who is it, and will she be okay? I hope so. At the 1:30 mark, Monica seems to be wearing the same clothes she has on during the attack when law enforcement vehicles come to gather around her, so that is some reassurance.
John Dutton And Thomas Rainwater Make A Deal
They have been enemies, and it seems Season 3 will see John Dutton and Thomas Rainwater continue the alliance they previously forged on Yellowstone. The question is what they will be allying with each other for, exactly. John mentions the "genie" not going back in the bottle.
The casting of Thomas Rainwater's political opponent revealed that he would take some criticism from her. Is one of the things that newcomer Angela Blue Thunder (Q'orianka Kilcher), will be unhappy about in Season 3, Rainwater's alliance with John Dutton? Maybe.
Elsewhere in the trailer, Kayce can be seen pulling his gun and striking someone against their car. He is not alone. Rip also appears to do his fair share of roughing up in Season 3. No wonder he and Kayce have a sort of connection. Punches are not the only thing primed to land when Yellowstone continues, though.
Beth and Rip appear to be more in love than ever, even sharing a moment in the bunkhouse. Things are really changing for the will-they-or-won't-they couple. I am rooting for them to make it to the other side. Yellowstone fans will not be in suspense on that front or others for too much longer.
Yellowstone will return as one of this summer's premieres on Father's Day, Sunday, June 21, on Paramount Network. If you want to freshen your memory on the Kevin Costner-led series, it will be streaming on NBCUniversal's upcoming service, Peacock. The streamer launches nationally on July 15.
Your Daily Blend of Entertainment News
Like a contented Hallmark movie character, Britt happily lives in the same city she grew up in. Along with movies and television, she is passionate about competitive figure skating. She has been writing about entertainment for 5 years, and as you may suspect, still finds it as entertaining to do as when she began.