Rumor Has It Netflix's Cursed Is Giving One Character A Spinoff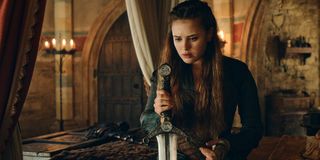 Cursed Season 1 debuted on July 17 and quickly rose to the number one spot on Netflix's top ten most-watched list. The story offers a twist on the legend of King Arthur and the Sword in the Stone, with the focus being Katherine Langford's Nimue. However, there was one standout character that fans couldn't get enough of and rumor has it that Netflix's Cursed is giving him a spinoff.
Cursed certainly had a lot to offer, including reimagined (yet familiar) characters in young Arthur, Gawain, Morgana and more. However, it was Gustaf Skarsgard's dark and broody Merlin who made a pretty big impact on the show. Apparently, it was enough to get Netflix execs' attention and there's speculation that they're potentially interested in giving Merlin his own spinoff series. The rumor comes from We Got This Covered, so it's best not to get too attached to this potential spinoff as it has yet to be confirmed by any official sources.
Presumably, however, the potential solo series would follow Merlin's adventures with Excalibur back when he was still a warrior. There's honestly not much information to go on beyond that. However, it sure sounds like this rumored Merlin spinoff might actually be more of a prequel than a sequel spinoff series.
Based on the little information we do have, I wouldn't be surprised if Gustaf Skarsgard wasn't in the rumored spinoff at all. Could Netflix cast a younger version of Merlin, before he became jaded? It's definitely possible, but maybe it's a spinoff about Merlin right before Cursed Season 1 picks up. Either way, it's all purely speculation at this point.
In Cursed, Merlin has been alive for a very long time and has pretty much shunned all magic, including the Sword of Power. Nimue is ultimately tasked with bringing the sword to Merlin, though the legendary wizard only wields it once over the course of Cursed's first season. Considering that Merlin's story begins late in his life, it's understandable if Netflix is looking to delve further into the character's backstory. That said, I think that giving Merlin a spinoff series would undermine what Cursed was trying to do in the first place.
As for Cursed itself, there are a number of unresolved storylines which could be explored if Netflix renews the show for Season 2. The Season 1 finale ended on a major cliffhanger that revealed certain characters' real names in a rather clever way (Lancelot and Guinevere included). Considering the series' popularity, I can only imagine that a renewal announcement is hopefully coming soon.
Cursed Season 1 is currently streaming on Netflix. Stay tuned to CinemaBlend for updates. To find out what else is coming to the streamer this year, be sure to check out our 2020 premiere schedule.
Your Daily Blend of Entertainment News
Thank you for signing up to CinemaBlend. You will receive a verification email shortly.
There was a problem. Please refresh the page and try again.