The Shocking Way Supernatural Was Almost Very Different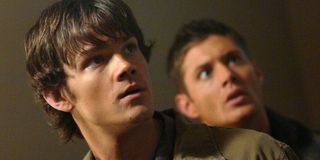 Supernatural has seen some crazy twists and turns over the past 15 seasons of demon and other paranormal baddie hunting. But, through all the residencies in purgatory, devil-killing, God-hunting, talking teddy bears, clown-fears, Scooby-Doo mystery solving, prophet-protecting and the losses of plenty of good allies, Sam and Dean Winchester have had each other's backs (even sometimes when they didn't know it). The show is nothing without the brothers Winchester, but now we know that their relationship could have been shockingly different at the start of the series.
After their mother's horrific Yellow-Eyed Demon death, Sam and Dean traveled with their hunter father, and were trained to hunt one day. But, Supernatural's creator, Eric Kripke, originally had a very different idea in mind when he started thinking about the series and took his first few stabs at the pilot. He spoke with Entertainment Weekly recently about how his idea morphed from being a horror show about reporter who followed urban legend leads around the country to being about two brothers who did the same. If you think the differences stopped there, consider this: Kripke was going to have Dean be the only brother who knew about the supernatural when they were kids. I. KNOW!
Kripke said that, even once he solidified his idea for Supernatural on the Winchesters, he thought that it would be better to have Sam be totally in the dark on all the scary beasties, until Dean's hand was forced and he needed to bring his little brother up to speed later in life. While this premise seems downright wacky now, after 15 years of watching these two fight together and getting glimpses into their shared, somewhat shitty, childhoods as hunters-in-training, it does make some sense.
Just thinking about how Supernatural started all those years ago does lend some acceptability to Kripke's though process. If you'll remember, Sam had gotten tired of the constant hunt and always being in danger, and wanted to live a normal life. So, he left Dean and their dad behind after college, much to the disapproval of his brother and father. Things were going swimmingly, until ol' Yellow Eyes ordered the murder of Sam's girlfriend, Jessica, and he returned to hunting.
Now, wouldn't the scene where Sam sees Jessica burst into flames on the ceiling have been even more terrible if Sam had no idea what the hell was going on? And, wouldn't the tension between the brothers have been even greater once Dean had to pony up all the details about what was really going on while they grew up? Add Sam having to constantly wrap his head around a new creature-that-goes-bump-in-the-night and all the assorted Big Bads they've had to face over the years, and that's a dynamic source of added drama every season.
So, how did Kripke know he was on the right track by having Sam and Dean be in the monster-hunting game together for (basically) their whole lives? Apparently, things really clicked for him while they filmed the pilot:
A big part of that sibling relationship is their shared history of knowing their mom was killed by the same Yellow-Eyed Demon who killed Jessica (and killed her in the same way), and having to largely fend for themselves while growing up because their dad was moving them from place to place and going off to hunt all the time. Without that, it seems like the thought was that there were too many things standing in the way of us fully believing just how committed these two are to each other.
Well, Eric Kripke did not steer us wrong, as evidenced by Supernatural becoming the longest-running genre show on TV and having one of the most dedicated fan bases of all time. All we need now is to see the rest of Season 15, so we can fully experience whatever true craziness will ensue as they wrap up one hell of a ride.
Supernatural will return to The CW for its final episodes sometime this fall, but for more to watch check out our guide to fall TV!
Your Daily Blend of Entertainment News
Yennefer's apprentice, Gilmore Girl; will Vulcan nerve pinch pretty much anyone if prompted with cheese...Yes, even Jamie Fraser.
Your Daily Blend of Entertainment News
Thank you for signing up to CinemaBlend. You will receive a verification email shortly.
There was a problem. Please refresh the page and try again.