What All The Former Supernatural Cast Members Are Doing Now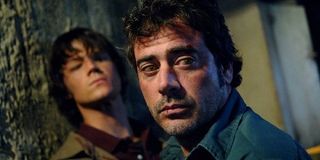 No show can remain on television forever, and while it looked like Supernatural could've been the first, the ride is finally coming to an end. To commemorate that, we've compiled a list of actors and actresses who made this show great to update fans with some info on where they can watch them now that they're off The CW series.
Katie Cassidy - Ruby
Katie Cassidy stepped into Supernatural in Season 3 to play a demon that helped out Sam and Dean in hunting other demons. The brothers were initially wary of her intentions but slowly began to trust her more and more as the season progressed. Ruby would eventually prove untrustworthy; by then Cassidy had left the series and been replaced by Genevieve Cortese.
Though Katie Cassidy would exit the series and leave The CW temporarily, audiences know she's appeared in prominent roles on a fair few of the network's hits over the years. She's been Ella on Melrose Place, Juliet on Gossip Girl, and Laurel Lance and Black Siren in Arrow and the other Arrow-verse shows. Given her relationship with The CW, it's a wonder the show hasn't found a way to bring her back for just one episode.
Lauren Cohan - Bela Talbot
Bela Talbot was a character that came into Supernatural in Season 3 in order to be a real pain in the ass to the Winchester brothers. Lauren Cohan's character knew of the supernatural world, and often stole mystical objects and flipped them for a massive profit. Talbot had a solid run, although ultimately lost her life and soul after her deal with a Crossroads Demon expired.
Lauren Cohan drifted around Hollywood for a bit but things really picked up for her in 2011. In addition to roles on Chuck and The Vampire Diaries, Cohan joined a little AMC series by the name of The Walking Dead and her career has been on fire ever since. Anyone who says otherwise need only reference her growing film resume, or her much-buzzed ABC series Whiskey Cavalier.
Mark Sheppard - Crowley
Supernatural fans likely remember Crowley well, as the "King of Hell" made frequent appearances beginning in Season 5. Whether willing or unwilling, Crowley often coordinated with the Winchester brothers in affairs that helped them defeat Lucifer. After years on the show, Crowley's ride came to an end when he sacrificed his life with an Angel's Blade in order to seal Lucifer in an alternate world. The plan failed, but Crowley's death stuck.
Since his exit in 2017, Mark Sheppard hasn't take a ton of roles, but he recently resurfaced in DC Universe's Doom Patrol. Sheppard managed to appear in quite a few shows during his stint on Supernatural, and was a solid guest star on several high profile shows prior. Bottom line, it won't be surprising to see him pop up in a few more projects in 2019 and beyond, so audiences should keep an eye out.
Jeffrey Dean Morgan - John Winchester
Jeffrey Dean Morgan played the Winchester brothers' father, who is a complicated man to say the least. John wasn't the best or most open parent to his sons for most of their lives, which didn't sit well with fans. He did ultimately show up for them in the end, trading his life for Dean's back in Season 2. Luckily, the boys and fans alike got some closure when he was temporarily brought back for the 300th episode.
Jeffrey Dean Morgan hasn't had as many episodes on Supernatural as some would've liked, which was largely due to his role on Grey's Anatomy and Weeds. Things haven't slowed for him since, as his work as Negan on The Walking Dead and continued film career may keep him out of any large role in the final season. He is open to making it happen, though!
Adrianne Palicki - Jessica Moore
Jessica Moore was Sam's girlfriend at the start of Supernatural, although their love was ultimately never meant to be. Jess was killed under Azazel's orders, and to drive the dagger deeper the murderer ended up being a demon that was also the "friend" that introduced the two. This ultimately drove Sam to join Dean in his quest to find John, and while Jess never resurrected like other Supernatural characters, Sam did get vengeance on the demon that killed her.
Adrianne Palicki has done a slew of television since Supernatural, but her home right now is on Seth McFarlane's The Orville as Kelly Grayson. Those who haven't seen her before that may want to check back on past episodes of Marvel's Agents Of S.H.I.E.L.D. or one of the many other shows she's been involved in as of late.
Sterling K. Brown - Gordon Walker
Who doesn't remember Gordon Walker? Gordon was the vampire hunter who liked his job a little too much. While this wouldn't have been a problem with folks like Van Helsing, Sam and Dean took exception to Gordon's blatant killing if a being was supernatural and not so much as to whether or not they were doing harm. Gordon eventually met his end via Sam, who decapitated him with a makeshift garotte.
Sterling K. Brown left Supernatural due to a contractual obligation to Army Wives, and has found numerous roles in film and television since. Many will recognize him as the increasingly unlikable Randall Pearson on NBC's This Is Us, and can catch him on there for the time being. Brown is also doing a bit of voice work and will be heard in the sequel to Angry Birds and Frozen later this year.
Alona Tal - Jo Harvelle
Jo Harvelle wanted to follow in her hunter mother's footsteps, but it takes more than that in Supernatural. Although Jo tried her best when she first appeared in Season 2, she ended up causing more problems rather than solving any. She did eventually figure things out and became a competent hunter when she reconnected with the brothers in Season 5, then tragically died. She next appeared as a ghost in Season 7, and hasn't been seen since.
These days Alona Tal can be found on CBS' SEAL Team where she plays Stella. Tal is said to be a part of the NYPD Blue reboot, and should be along for the ride if the project gets a series order. She'll also be seen in The Red Sea Diving Resort alongside actor Chris Evans, Haley Bennett and others which is set to release sometime in 2019.
Mitch Pileggi - Samuel Campbell
Samuel Campbell was Sam and Dean's maternal grandfather, and also a hunter. He's been possessed, killed, brought down from heaven, had a soulless period where he did some bad stuff and then regained his soul with no memory of that time. Still, what a character arc this guy has had!
Since exiting Supernatural, Mitch Pileggi has been in a whole mess of stuff, and even reprised his role as Skinner for the The X-Files revival. Pileggi recently had a guest spot on NCIS and is also a part of the supernatural film Polaroid. He's taking part in the upcoming film Axis Sally, which features folks like Al Pacino, Meadow Williams, and Lala Kent.
Rob Benedict - Chuck Shurley
When it comes to interesting Supernatural characters, Chuck Shurley tops the list. He's the writer of the in-series novels Supernatural, and documents the adventures of the Winchester brothers as the "new Gospels." Chuck fades away for a time, but then comes back as God in Chuck's form. This raises the question of if Chuck was always God, or if the actual Chuck died and then God later took Chuck's form. Unfortunately, those in charge will probably never tell.
Rob Benedict's last appearance on Supernatural was 2016, and he's been out and around Hollywood since then. He was recently in two episodes in NCIS: New Orleans, and will appear in two episodes of Season 5 of Amazon Prime Video's Bosch. While we don't know for sure, one would hope Benedict will make another appearance in Supernatural's final season.
Richard Speight Jr. - Gabriel
The youngest of the archangels, Gabriel spent a majority of his life trying to avoid the drama of heaven and hell and instead opted to escape to Earth. The plan didn't work out to well, as Gabriel frequently surfaced throughout Supernatural and eventually found himself unable to run any longer from his problems. Gabriel confronted his brother Michael, in a great victory over his cowardice but an overall defeat that cost him his life.
Since his last appearance on Supernatural, Richard Speight Jr. has taken to the independent film scene. Driven, No Place Like Home, and Mama Bear are on the docket for 2019. Dawn of 5 Evils is another project he has in production, although no release date has been announced.
Felicia Day - Charlie Bradbury
Charlie was yet another of Sam and Dean's frequent collaborators, sometimes unintentionally. Despite her attempts to avoid them, Charlie always came around and was actually a big help on a handful of adventures. Charlie did die, but she's got an Apocalypse World counterpart running around that is pretty bad ass.
Felicia Day has been as busy as she was prior to Supernatural, and is keeping it geeky with roles within the genre. This includes her role as Kinga Forrester in Mystery Science Theater 3000: The Return, and run as Poppy on The Magicians. Fans can also hear her voice on several different animated projects that are on streaming such as Adventure Time, or Skylanders Academy.
Supernatural airs on The CW Thursdays at 8:00 p.m. ET. Keep up with CinemaBlend for updates on the upcoming final season as they become available, and maybe get some clues as to how it all shakes out for Sam & Dean in the end. For more on the show, read up on what famous CW actor Jared Padalecki has been hanging out with lately.
Mick likes good television, but also reality television. He grew up on Star Wars, DC, Marvel, and pro wrestling and loves to discuss and dissect most of it. He's been writing online for over a decade and never dreamed he'd be in the position he is today.
Your Daily Blend of Entertainment News
Thank you for signing up to CinemaBlend. You will receive a verification email shortly.
There was a problem. Please refresh the page and try again.