Why Zoey's Extraordinary Playlist Has A 'Lot To Unpack' With The Love Triangle In Season 2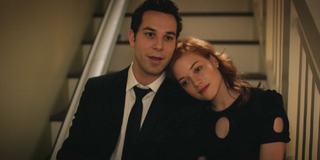 The end of Zoey's Extraordinary Playlist Season 1 set up a lot of storylines for the titular character in Season 2. One of the subplots that remained open-ended was the love triangle between Zoey, Max, and Simon. While Jane Levy has her mind made up about who Zoey should end up with, Skylar Astin recently explained why Zoey's Extraordinary Playlist still has a "lot to unpack" with the love triangle in Season 2.
According to Skylar Astin, Zoey's Extraordinary Playlist is gearing up to begin production on Season 2 in Vancouver. That's not a surprise considering many Vancouver-based shows are looking to resume filming soon following production shutdowns in March. As for Astin's Max and Jane Levy's Zoey, the pair kissed in the Season 1 finale, but a family tragedy interrupted the moment. Here's what Astin told ET about what's next for the pair's budding romance in Season 2:
Hmm. It sure doesn't sound like Zoey and Max will be getting together any time soon, but I think that's to be expected considering how Season 1 ended. Not to mention that Zoey also has to sort through her feelings for Simon, who's still very much a part of the equation. All that said, the fact that Zoey and Max will unpack their relationship "ad nauseam" in Season 2 is a good thing and I'm pumped.
Showrunner Austin Winsberg even teased that Zoey's Extraordinary Playlist may delve a bit further into Zoey's ability to hear people singing their feelings in Season 2, so she clearly has a lot on her plate. Of course, Zoey will likely still be grieving her father Mitch, who died at the end of Season 1 from Progressive Supranuclear Palsy (PSP). That might put the brakes on any romantic relationship for Zoey at the start of Season 2, at least for a little while.
Speaking of Mitch, the Season 1 finale ended with the cast singing a beautiful rendition of Don McLean's "American Pie" during Mitch's wake. Skylar Astin says that he really enjoyed being a part of that particular scene because of the power behind it and how much emotion it was able to convey with regards to the characters. In his words:
Zoey's Extraordinary Playlist Season 2 does not yet have a premiere date, but is expected to begin airing at midseason on NBC. Stay tuned to CinemaBlend for updates. For more on what to watch in the meantime, be sure to check out our 2020 fall TV premiere schedule.
Your Daily Blend of Entertainment News