Zoey's Extraordinary Playlist Is Giving Several Characters A Lot More To Do In Season 2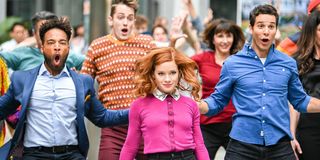 The world of Zoey's Extraordinary Playlist is about to get a bit bigger. The first season found Zoey interacting with a number of characters while listening to them sing about their internal woes, including her co-workers and brother David. Most of Zoey's storylines involved best friend Mo, boss Joan, and love interests Max and Simon, and while these characters will still be central, Zoey's Extraordinary Playlist is giving several of the show's supporting characters a lot more to do in Season 2.
Ahead of Season 2, four of the NBC musical's recurring characters have been promoted to series regulars: Andrew Leeds, Alice Lee, Michael Thomas Grant and Kapil Talwalkar. Per TVLine, Leeds' David will be struggling to cope with his father Mitch's death just as he's become a new dad himself. Lee's Emily will also be coping with losing Mitch and the grief of her husband's family while "balancing the joys and pains of new motherhood."
Meanwhile, Michael Thomas Grant's Leif, who was in a questionable workplace romance with Lauren Graham's Joan last season, will find himself in a "new position" at Sprq Point. What that position may be is currently unclear, but it sure sounds like he might be getting a promotion of some sort himself.
Finally, Kapil Talwalker's Tobin will, of course, be using humor and insults to avoid showing how deep he can actually be. Tobin might be the show's funniest character, in my humble opinion, and it'll be exciting to find out what he gets up to next.
David and Emily went through a few ups and downs in Zoey's Extraordinary Playlist Season 1. David was already struggling with wanting to be a good father in light of the fact that he was about to lose his. He was also saddened by the fact that Mitch may not live long enough to meet his grandson, who died before his birth.
At the same time, Emily grew increasingly frustrated with David, who kept avoiding her to deal with his own issues. They eventually talked things through (sort of thanks to Zoey), but I'm glad that Alice Lee is getting some especially meaty material next season, because she was rather short-changed in Season 1.
Zoey's Extraordinary Playlist managed to wrap work on its first season ahead of the Hollywood-wide shutdowns in March. Per Skylar Astin, the cast is gearing up to return to Vancouver to begin filming on Season 2. That said, there's a chance that Lauren Graham may not return for every episode of the show's second season due to the pandemic.
Lauren Graham was also scheduled to film the Mighty Ducks reboot in the summer, but that production was obviously also delayed. Now, the production of both shows might be happening at the same time, though Zoey's Extraordinary Playlist showrunner Austin Winsberg is "hopeful" that Graham will be back for a number of episodes.
Stay tuned to CinemaBlend for updates on Season 2. In the meantime, you can rewatch Zoey's Extraordinary Playlist Season 1 on Hulu. For more on what to watch in the coming months, be sure to check out our 2020 fall TV premiere schedule.
Your Daily Blend of Entertainment News