The Masked Singer Most Shocking Reveals So Far, Ranked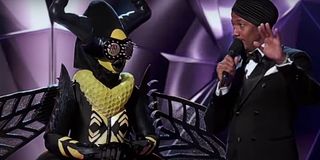 The Masked Singer is an international reality show that has been a Fox hit for the past three seasons. The quirky reality show features celebrities dressed in outlandish costumes with judges and the audience trying to guess the faces and voices hiding under the mask. Each week, at least one person is eliminated from this singing competition and then the celebrity must reveal him or herself to the audience. The Masked Singer has featured big names like Kandi Burruss, Jessie McCartney, Joey Fatone, and Tony Hawk.
The show is a way for celebrities that are not known for singing to showcase their singing talents (or lack thereof), or it gives the opportunity for established singers to revive or reinvent their careers. And for some, The Masked Singer is just a fun opportunity that could win them cool points in their children's eyes. The Masked Singer has had three exciting seasons with lots of surprising reveals. For this list, I looked back at ten of the reveals that sent shockwaves throughout the internet, or at least to me.
10. Barry Zito As The Rhino
For week's The Rhino impressed everyone with his country style of pop music. The Rhino made it pretty far in The Masked Singer Season 3, coming only a week shy of the finale. The audience was flabbergasted when the mask came off and baseball star Barry Zito was revealed to be the soulful country singer.
I don't know anything about baseball, so there was no way I would have guessed Barry Zito was The Rhino. Fans of the former pitcher would know that Zito already had an EP called No Secrets, which was released in 2017, so they probably recognized his voice. However, to those oblivious to the sports world, Zito's name being revealed took us by surprise. Many of the clues could have easily worked for Tim Tebow, who was a popular guess among the internet and some judges. Once Zito's face was revealed, I'm sure many who were unaware of the former San Francisco Giants pitcher took to Google to find out more, and listen to some more of his covers and original music.
9. Chaka Khan As Miss Monster
The Masked Singer has had some legendary female vocalists throughout the first three seasons. Their voices are so recognizable that anyone who has heard any of their songs can quickly guess them as the face behind various masks. Chaka Khan as Miss Monster was a little harder to figure out than the others, especially with the whole she was in love with the Monster, T-Pain from The Masked Singer Season 1, storyline the producers developed, but it was still fairly certain that Miss Monster could only be Chaka Khan.
What made Chaka Khan's reveal so surprising wasn't that it was her, but that she was eliminated from the show so early. This proved that vocal talent alone won't win you The Masked Singer, but I still believe that Miss Monster should have lasted longer than a few episodes.
8. Dr. Drew Pinsky As The Eagle
I grew up listening to Loveline, so I have always seen Dr. Drew as this professional figure, even if Loveline could be very silly at times, so if you told me that one day Dr. Drew Pinsky would be a contestant on a Fox singing competition dressed as an Eagle, I would have told you to seek professional help. The Eagle wasn't a standout contestant or singer, but when it was revealed during The Masked Singer Season 2 that he was The Eagle, I had a major jaw-drop moment.
The Dr. Drew on The Masked Singer. Who would have guessed it? Not me. It's always interesting to see contestants that are nowhere near the singing world appear on The Masked Singer, which is why I hope the show continues to focus on having non-professional singers on the show more so than professional ones. The non-professional singers are usually the biggest shockers.
7. Tom Bergeron As The Taco
The Taco didn't make that big of an impression during his few episodes of The Masked Singer. People were pretty confident that he was Fuller House star, Bob Saget. No one expected The Taco reveal to create such buzz when Tom Bergeron was shown as The Taco.
The former Dancing with the Stars host completely fooled the judges and the audience. I think many people were surprised by this reveal because they knew it could be no one else but Bob Saget. For me, it was surprising seeing Bergeron on a network besides ABC while still working for ABC, and Bergeron is so known for his hosting duties, so seeing him in any other capacity on TV feels like some weird fever dream.
6. Brett Michaels As The Banana
If you closely follow Brett Michael's music career or reality shows, then it was pretty obvious who the man was behind the Banana outfit. Guest judge Sharon Osbourne made it even more apparent when she insisted that the Banana could be no one else but Brett Michaels.
So the Brett Michaels reveal wasn't surprising because no one saw it coming--everyone saw it coming. The surprising part was that Brett Michaels would appear on The Masked Singer. Yes, he's no stranger to reality TV, and he clearly doesn't take himself too seriously (I mean, have you seen Rock of Love?), but this very strange show and this international rock star existing in the same plane of existence felt like an episode of The Outer Limits.
5. Victor Oladipo As The Thingamajig
The Thingamajig was one of the biggest surprises of The Masked Singer Season 2, not just the person behind the mask, but the character and vocal talent. He had an entire flirtatious relationship with judge Nicole Scherzinger that had viewers tuning in to see if this fun little element would continue or fizzle out. The big appeal of The Thingamajig was his voice. It was impressive but not easy to recognize. His identity was truly a mystery to viewers unfamiliar with Victor Oladipo.
Without the help of the internet, most viewers would have had a hard time guessing that Victor Oladipo was The Thingamajig. Even diehard basketball fans may have had no clue that the Indiana Pacers player was also a very talented singer. Like Barry Zito, Oladipo had also released music before appearing on The Masked Singer. He has an EP called Songs for You and an album called V.O. available to purchase.
4. Gladys Knight As The Bee
With a voice like Gladys Knight, it's hard not to recognize it. The minute The Bee started singing, if you know the voice of Gladys Knight, you were probably like "they got Gladys!" That's what made her reveal so big, not because everyone didn't know, but because if The Masked Singer could book such a legendary singer in the first season, then who knew who else they could get in future seasons.
It was also just enjoyable to hear her singing some of today's pop hits and how a Gladys Knight version of songs like "Locked Out Of Heaven" by Bruno Mars or "Wrecking Ball" by Miley Cyrus would sound.
3. Sarah Palin As The Bear
Sarah Palin and her family are no strangers to reality television. Sarah Palin hosted her own reality shows, and Bristol Palin competed on Dancing with the Stars. All the clues were there and even the bear costume choice seemed like a major hint. However, the Bear's performing and singing abilities were not top-notch, so it had to be a non-singer behind the mask. That meant the Bear could be anyone, except a professional singer or musician.
It's not like everyone just knows how Palin sounds when she sings. Also, I think many people, like myself, kind of forgot about the Palin family. The reveal made you go "oh! Sarah Palin." Then like some of the judges, you probably had to take a look at your life and your life choices when thinking about how absurd (but highly enjoyable) it is to watch Sarah Palin dance around in a colorful bear costume.
2. Rumer Willis As The Lion
Rumer Willis has been forging her own path in Hollywood, separate from her famous parents, for a while. She's appeared on television shows and movies, like Once Upon a Time in Hollywood and Pretty Little Liars. She also competed on Dancing with the Stars, so the reality TV world isn't foreign to her. However, unless you're a Rumer Willis stan, watched her on Empire, or just seen everything that she's ever done, you probably had no clue she could sing so well.
Rumer Willis as The Lion would have been a complete shock to me if internet sleuths didn't figure it out beforehand. Either way, it was still impressive to discover that Rumer Willis was The Lion and has such a nice voice.
1. Lil Wayne As The Robot
The Robot only appeared on one episode of The Masked Singer Season 3. While listening to the Robot's raspy voice, I immediately thought "that sounds like Lil Wayne, but who is it really?" I was even convinced it was one of the judges' guesses, maybe Steve-O. I know Lil Wayne's voice and it sounded exactly like The Robot, but I couldn't see a world where The Robot was actually Lil Wayne.
The Lil Wayne reveal was hands down the biggest so far, because Lil Wayne still has a thriving rap career, and he's not someone often seen on reality shows. It just seemed so unbelievable to see him on The Masked Singer. It was definitely a watercooler moment that many were talking about the next day, so it definitely kind of created great buzz for the show having this reveal on the Season 3 premiere night, and after the 2020 Super-Bowl.
I am looking forward to seeing who will surprise me next when The Masked Singer returns for Season 4. Catch The Masked Singer Season 4 premiere on September 23.
This poll is no longer available.
Your Daily Blend of Entertainment News
Spent most of my life in various parts of Illinois, including attending college in Evanston. I have been a life long lover of pop culture, especially television, turned that passion into writing about all things entertainment related. When I'm not writing about pop culture, I can be found channeling Gordon Ramsay by kicking people out the kitchen.
Your Daily Blend of Entertainment News
Thank you for signing up to CinemaBlend. You will receive a verification email shortly.
There was a problem. Please refresh the page and try again.