Where You've Seen Amazon's Utopia Cast Before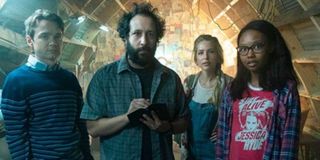 Utopia is one of Amazon Prime Video's latest original series. It follows a group of people in search of the comic book Utopia. For some, the comic book is just that, a comic book with an interesting story and unique characters, but for others, it's the key to unlocking some of the earth's biggest mysteries, such as the next deadly disease to hit the world. The Utopia cast includes a mixture of well-known actors, like John Cusack and Rainn Wilson, and a few newcomers.
Though you may not recognize some of the cast by name alone, many of this Amazon series' cast have been on major movies and TV series like Euphoria, Scandal, and La La Land. If you need a refresher on where you've seen these familiar faces, well let us tell you.
Sasha Lane (Jessica Hyde)
Jessica Hyde is the main character in the Utopia comics. All the fans of it believe that she's just a fictional character, but some soon discover that she's very much real, maybe even too real. Sasha Lane has been working consistently since 2016, appearing in various indie movies. A few movies that you may recognize her from are American Honey, The Miseducation of Cameron Post, Hearts Beat Loud, and the 2019 Hellboy.
Lane's TV credits aren't that long, but she recently appeared in the "Signs of Life" episode of the Amazing Stories reboot, and she will appear in the upcoming Loki series on Disney+.
Ashleigh LaThrop (Becky Todd)
Becky is a fan of the Utopia comics. She also has a rare disease and hopes that the comic may contain the key to curing her. She's one of the original five characters who plan to meet at a San Diego Comic-Con style convention. She is also the love interest of Ian (Dan Byrd) and dubbed the nice one of the group. Ashleigh LaThrop has appeared in multiple episodes of many hit series. You may have seen her on The Kominsky Method, The 100, and The Handmaid's Tale.
LaThrop also appeared on episodes of Bones, The Rookie, and Chicago P.D. Her most well-known movie credit is as Hannah in the Fifty Shades of Grey movies, specifically Fifty Shades Darker and Fifty Shades Freed.
Dan Byrd (Ian Ackerman)
Ian is one of the original five characters who agree to meet and try to bid on Utopia. He doesn't quite believe that it's really the key to saving humanity. He basically comes to the Comic-Con event to hang out with his online friends and finally meet the girl he loves, Becky. Dan Byrd is one of the more veteran actors in Utopia as he has a long list of screen credits. Byrd is one of the actors that you definitely probably seen in something at one point.
He appeared in the Sanda Bullock dramedy 28 Days, the Hilary Duff-Chad Michael Murray A Cinderella Story, and in Emma Stone's Easy A. Dan Byrd was a series regular on Cougar Town, and Any Day Now. He appeared on episodes of popular series like Boston Legal, Heroes, Community, Mad Men, Scandal, The Good Doctor, and Unbreakable Kimmy Schmidt.
John Cusack (Dr. Kevin Christie)
Dr. Kevin Christie is a scientist trying to create genetic meat to help the world. He owns a big corporation that does things like create vaccinations. Utopia opens with Christie being accused of making meat that may be the source of children becoming sick. John Cusack has been acting since the 1980s, so he's been in a ton of movies.
Some of Cusack's most famous movies are Sixteen Candles, Better Off Dead, Stand by Me, Say Anything, Grosse Pointe Blank, and Con Air. He has also appeared in Anastasia, Midnight in the Garden of Good and Evil, Being John Malkovich, High Fidelity, Adaptation, Love & Mercy, Hot Tub Time Machine and so many movies. Utopia is his first TV series that he's appeared in as a series regular. He also appeared in an episode of Frasier and an episode of Doll & Em, but he hasn't appeared on many other TV shows.
Desmin Borges (Wilson Wison)
Wilson is a conspiracy theorist who takes extra precaution to stay off the grid and away from the government. He's one of the people that believes most in the power of The Utopia comic. Many will recognize Desmin Borges the most for his underrated role on You're The Worst as Edgar.
Borges has also appeared in the movies Mr. Popper's Penguins, Compliance, and Carrie Pilby. He's also had guest appearances in the series Madam Secretary, Bull, Preacher, The Good Wife, Castle, and Law and Order: Special Victims Unit.
Javon Walton (Grant Bishop)
Grant is an original member of the group that agrees to meet at a Comic-Con. He's a child but pretends to be an adult while online. He's also the one who steals the Utopia comic. Javon Walton is only 14-years old, so he's new to the world of acting. However, he had a recurring role on Euphoria. He played Ashtray, a child drug dealer.
He is also a boxing prodigy and a spokesperson for Under Armour. He's a five-time Georgia state champion and a four-time USA Boxing SouthEast regional champion. Walton will also soon be voicing Pugsley Addams in The Addams Family 2.
Christopher Denham (Arby)
Arby is a hired hit-man. He's a psychopath that lacks emotions and a basic understanding of them. He's sent on a mission to retrieve Utopia and Jessica Hyde. He's also trying to kill everyone who saw the Utopia comic. You may have seen Christopher Denham in Charlie Wilson's War. He played Mike Vickers. He also appeared in popular and critically acclaimed movies Shutter Island, Argo, and Fast Color.
Denham has also appeared in the series Law & Order, Person Of Interest, The Following, The Good Wife, and Billions.
Jessica Rothe (Samantha)
Samantha is the leader of the original five. She organizes their meeting and seems to be a driving force in keeping them focused on their mission to obtain a copy of Utopia. Jessica Rothe is the lead in the Happy Death Day movie and its sequel. She also appeared in the movies Forever My Girl and La La Land.
Rothe also appeared in the TV series Happy Endings, Gossip Girl, Blue Blood, Chicago P.D, and she was a main character on MTV's short-lived series Mary + Jane.
Rainn Wilson (Michael Stearns)
Michael Stearns is a man who believes that he may have the cure to save the children infected by this mysterious and deadly disease. If you're a The Office fan, then you immediately recognize Rainn Wilson as Dwight Schrute. Wilson's famous movie credits include Galaxy Quest, Almost Famous, Juno, The Boy, and voicing Lex Luthor in Batman: Hush and Justice League Dark: Apokolips War.
Wilson has also had TV roles on Six Feet Under, Tim and Eric Awesome Show, Great Job, Adventure Time, Star Trek: Discovery, and Mom. He also appeared in episodes of Room 104, Reno 9!!, Entourage, Charmed, and Monk.
Cory Michael Smith (Thomas Christie)
Thomas Christie is the only biological son of Kevin Christie and his eldest child. He's being groomed to run things if Kevin retires. Cory Michael Smith appeared in the 2013 Broadway show of Breakfast at Tiffany's starring Emilia Clarke.
TV fans will most recognize Smith from his role as The Riddler in Gotham. He also appeared in the Cate Blanchett and Rooney Mara romance-drama Carol. He portrayed astronaut Roger B. Chaffee in First Man. Smith also appeared in an episode of Olive Kitteridge. His Broadway credits also include Bright Star and Assassins. In Assassins, he played Lee Harvey Oswald.
Jeanine Serralles (Colleen Stearns)
Colleen is the very supportive wife of Michael. She often encourages him to try to get more people to take him seriously. Jeanine Serralles appeared in The Beatles-Vietnam War musical Across The Universe. She also played Joy in the Coen brothers' Inside Llewyn Davis.
Serralles has also appeared in episodes of Bull, Person of Interest, and The Good Wife. She will appear in the much anticipated The Woman in the Window starring Amy Adams.
Calum Worthy (Ethan)
Ethan and his girlfriend Olivia (Maya Kazan) discover the Utopia comic book, and then they try to sell it to the highest bidder. Calum Worthy played Nick Godejohn in Hulu's The Act. He's also known for appearing in the battle rap comedy Bodied, and Corporate Animals. He also voiced a character in the series Solar Opposites, and he played Alex on American Vandal.
Worthy also was a series regular on Austin & Aly and appeared on episodes of Good Luck Charlie, Aquarius, Longmire, Smallville, and Psych.
Camryn Manheim (Artemis)
Artemis is someone from Jessica Hyde's past and a character in the Utopia comics. Artemis is played by veteran actress Camryn Manheim, who many may remember for her role as Elenor Frutt in The Practice. She has appeared in Romy and Michele's High School Reunion as Toby, Scary Movie 3, and The F**k it List.
Manheim has also appeared in Stumptown, The Magicians, Waco, Younger, and Harry's Law. Her acting credits also include a lead role on Ghost Whisperer, and guest roles on Hannah Montana, How I Met Your Mother, The L Word, and Will & Grace.
The entire first season of Utopia is available to stream on Amazon Prime Video. Stream it here.
Your Daily Blend of Entertainment News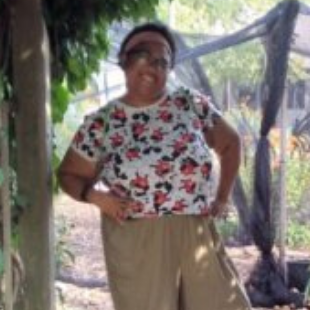 Spent most of my life in various parts of Illinois, including attending college in Evanston. I have been a life long lover of pop culture, especially television, turned that passion into writing about all things entertainment related. When I'm not writing about pop culture, I can be found channeling Gordon Ramsay by kicking people out the kitchen.