SNL Found A Replacement For Musical Guest Morgan Wallen After He Was Booted For Breaking Covid Protocols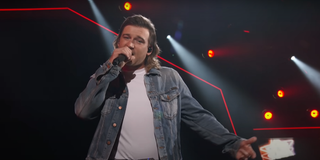 Saturday Night Live is back in the studio and filming in front of a live audience. The Season 46 premiere included Jim Carrey's impersonation of presidential candidate Joe Biden for the first time after Jason Sudeikis' departure, while Megan Thee Stallion gave a riveting musical performance. The NBC series was all set to welcome country singer Morgan Wallen as this week's musical guest. However, Wallen was booted for breaking COVID-19 protocols ahead of his appearance. Luckily, SNL has found an awesome replacement performer to fill in.
Things got complicated for Saturday Night Live after Morgan Wallen was spotted partying and hanging out sans mask at different bars in Alabama, while also making out with various females. Considering that SNL is currently following very strict COVID-19 measures to ensure the safety of its staff and audience, Wallen's behavior was considered a big no-no and he was dropped from his musical guest spot in the middle of the week. On Friday morning, SNL producer Lorne Michaels confirmed that White Stripes vet Jack White will be performing in Wallen's place, and that might not be all. Here's what he told Willie Giest on NBC News' Sunday TODAY:
What that "other stuff" SNL will include is currently unknown, but at least the series has now set up another musical guest. Jack White's upcoming performance will mark the third time he's been a solo musical guest on Saturday Night Live and the fourth time he's performed overall, with the last time being in 2018.
I'm glad the retro-leaning rocker was able to fill in for Morgan Wallen on such short notice. Considering how Wallen could have endangered the cast, crew, and audience after putting himself at risk while partying, it was a responsible decision for the SNL execs to reverse course on having the popular country music artist appear on the show, despite the negative reaction it provoked from his fanbase.
Lorne Michaels went on to add that Morgan Wallen obviously isn't the first musician to party after an event like a football game. However, Michaels cited the "different times" we're living in right now due to the ongoing pandemic as the reason that Wallen's behavior was so heavily scrutinized.
In an Instagram video, Morgan Wallen apologized to the Saturday Night Live team and his fans for his so-called "short-sighted" actions. He also confirmed that he wasn't testing positive for COVID-19 at the time, but that he understood and respected the decision to cut him from the October 10 episode of Saturday Night Live, and that he feels like he let everyone down. Watch it below.
The October 10 episode of Saturday Night Live will be hosted by comedian and F Is for Family star Bill Burr, and it will air at 11:35 p.m. ET on NBC. For more on what to watch, be sure to check out our 2020 fall TV premiere guide.
Your Daily Blend of Entertainment News