Dead To Me Season 3: 7 Quick Things To Know About The Last Season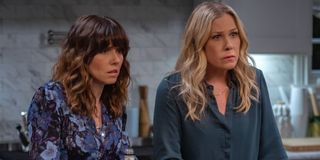 There have been quite a few notable Netflix original series getting the axe in 2020, the Christina Applegate and Linda Cardellini dark comedy Dead to Me among them. But unlike shows like GLOW, which was cancelled without a proper conclusion, Dead to Me Season 3 will serve as the final chapter in the twisted relationship shared by Applegate's Jen Harding and Cardellini's Judy Hale.
And while there are still a great number of unknowns about the third and final season of Emmy-nominated comedy from the mind of Liz Feldman (who isn't going anywhere, by the way), we do have some quick things to know about Dead to Me. Here are just a few of them to take into consideration before we see how things wrap up for the friends who were brought together in the toughest and most emotionally tasking of ways.
Dead To Me Season 3 Will Be The Show's Last
In July 2020, fans of Dead to Me received some good news and not so good news simultaneously when it was announced that the nerve-wracking dark comedy was renewed for a third season that would also serve as its last. That being said, at least we will all get to see how things play out for Jen and Judy as we see Christina Applegate and Linda Cardellini's respective characters tie up all the loose ends following a wild and crazy Season 2 finale. In an official statement, show creator Liz Feldman said that Dead to Me was the show she wanted to make, calling being able to tell the story an incredible gift.
Dead To Me's Producers Hope To Start Production In Early 2021
Shortly after news broke in July 2020 that Dead to Me Season 3 would be the end of the road for everyone involved with the popular Netflix series, show creator Liz Feldman spoke with Deadline and told the publication that she and the rest of the show's producers were hoping to start at some point in the next six months, which would be around January 2021. With everything going on in a pandemic, it's hard to say when exactly the third and final season of Dead to Me will get started, but hopefully they're able to start shooting sooner rather than later.
Christina Applegate And Linda Cardellini Will Be Returning For The Final Season
This will probably come as a surprise to absolutely no one, but Christina Applegate and Linda Cardellini will both be reprising their roles of Jen Harding and Judy Hale, respectively when Dead to Me Season 3. In a tweet sent out shortly after the July 2020 announcement about the third and final season, Liz Feldman had this to say:
With the main co-stars and writers back in the fold for the final go, it sounds like everyone is working together to bring Dead to Me home.
Netflix Approved The Dead To Me Season 3 Story Pitch In September
A little more than two months after Netflix announced that it would be picking up Dead to Me for a third and final season, Liz Feldman took to Twitter once again to share an update on Season 3's progress. In that September 2020 tweet, the show creator revealed that she had pitched the story to Netflix executives and that they loved it:
Although the announcement was brief and lacking of any new information (who all is involved, how many episodes, how all those cliffhangers from Season 2 will play out), it is still progress, and in today's entertainment world, that's a whole lot of something.
Dead To Me Season 3 Will Properly Wrap Up The Series
The decision to end Dead to Me with Season 3 wasn't something Netflix did in order to cut back on its productions. In fact, this is something that show creator Liz Feldman and star Christina Applegate (who also serves a series producer) felt was best for the dramedy, going as far as to touch upon it in a tweet just as the renewal and ending was announced in July 2020:
And while it does suck to see such a unique show come to an end, fans of the show are at least getting a nice sendoff instead of wondering what could have been like so many times in the past.
The Dead To Me Ending Came To Liz Feldman Profoundly
Similar to comments made by Christina Applegate about Dead to Me Season 3, show creator Liz Feldman told Deadline at the time of the big announcement that she always knew the show wouldn't run for a long time and that the way of ending things came to her in the middle of production on Season 2, stating:
Exactly what Liz Feldman means by this remains to be seen, but you must admit that ending a show on your own terms with an idea in mind ahead of time has to be a great feeling.
Liz Feldman Will Be Bringing More Content To Netflix Following The Conclusion Of Dead To Me
When Dead to Me Season 3 airs its final episode at some point in the near future, it won't be the end of the ongoing collaboration between Liz Feldman and Netflix, as the writer signed a multi-year deal with the streaming platform in July 2020. Not a lot about this continued partnership is known at this time, but according to Variety, the deal includes original series as well as other projects over the life of the agreement. Be on the lookout for more great content from the former The Ellen Degeneres Show writer for many years to come.
There are still many things we don't know about Dead to Me Season 3 like how will James Marsden's Ben Wood and his shocking actions from the Season 2 finale be brought into the fold, what other members of the cast will be returning, or when we'll actually get to see the show's final few episodes. For more information on Dead to Me and other Netflix shows, make sure to check back on CinemaBlend.
Your Daily Blend of Entertainment News
Philip grew up in Louisiana (not New Orleans) before moving to St. Louis after graduating from Louisiana State University-Shreveport. When he's not writing about movies or television, Philip can be found being chased by his three kids, telling his dogs to stop yelling at the mailman, or yelling about professional wrestling to his wife. If the stars properly align, he will talk about For Love Of The Game being the best baseball movie of all time.
Your Daily Blend of Entertainment News
Thank you for signing up to CinemaBlend. You will receive a verification email shortly.
There was a problem. Please refresh the page and try again.