Watchmen Season 2: What's Going On With The HBO Series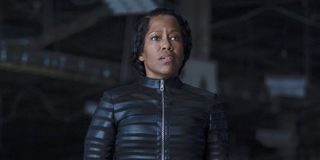 It has been nearly a year since Watchmen Season 1 came to a dramatic, shocking, and downright confusing end, and it has been nearly as long since fans of the gritty HBO superhero drama knew what was in store for the show's future. Over the past year, as the premium cable channel has introduced great show after great show (and one sad yet not shocking cancellation), there are more than a few people out there asking, what's going on with Watchmen Season 2.
As valid of a question that might be, sometimes there aren't a lot of answers, considering everything that has happened behind the scenes since we last saw the likes of Regina King's Sister Night, Yahya Abdul-Mateen II's Doctor Manhattan, and the rest of the impressive cast of superheroes and everyday humans alike. And with the show taking home an insane number (11, yes, 11) of Primetime Emmys a few months back, you would think that HBO would be streamlining any and all future installments of Watchmen. Well, about that…
HBO Reclassified Watchmen As A Limited Series But Left The Door Open In February 2020
Before we get into everything that Watchmen series creator and showrunner Damon Lindelof has said about his involvement in the show moving forward, let's take a look at what HBO has said and done regarding the drama series' future. Back in February 2020, Variety reported that the premium cable channel reclassified Watchmen as a limited series instead of a traditional ongoing series. And while this change could have been made for awards consideration, this does go back to comments Lindelof made in the past, specifically about the show's first season being a standalone story instead of something that is told over the course of multiple seasons.
At the time, HBO released the following statement regarding Watchmen and its future:
This statement, although brief and admittedly vague, can be interpreted in many different ways but seems to leave the door open if Damon Lindelof were to return to the fold or if someone were to take the reins for future seasons.
But how did this all get started?
Damon Lindelof Laid The Groundwork For His Departure Following The Season 1 Finale in Late 2019
The mystery surrounding the future of Watchmen, or at least Damon Lindelof's involvement moving forward, started just as the Season 1 finale aired in December 2019. During an interview with Vanity Fair, when the creator of shows like Lost and The Leftovers told the publication that he would only return for a second season if he could come up with an idea that he felt was worthy of telling after he took a much-needed break after wrapping things ahead of the 2019 holiday break. Later on in the conversation, the showrunner added:
This comment, much like the one HBO would make two months later, is rather vague and leaves the door open for a possible return at some point, just if the story is right. At the same time, however, Damon Lindelof sounded like he was done with Watchmen for the time being.
The Watchmen Showrunner Said In February 2020 That He Wasn't Opposed To Returning At Some Point
In February 2020, when appearing at the Writers Guild of America West Awards ceremony, Damon Lindelof seemed to double-down on his comments about not wanting to pursue a Watchmen Season 2 at this point, but also didn't want to close the door in case he came up with an idea at some point down the road. Speaking with Deadline, this is what the showrunner had to say about his future with Watchmen as well as the show in general:
There's a lot to take from this comment. On one hand, Damon Lindelof seems to open to maybe returning at some point if everything made sense in terms of the show's story, but on the other, it seems like the the executive producer would be okay with someone else taking the lead. This latter statement is something that Lindelof would touch on several months later at the 2020 Primetime Emmy Awards.
Lindelof Again Said He Was Open To Idea Of Someone Else Picking Up Where He Left Off At The 2020 Emmys
The saga surrounding the future of Watchmen continued on throughout 2020, and was even brought up again the night of the 2020 Primetime Emmys Awards in September, where the HBO series received 26 nominations, winning 11 of them. While accepting one of the awards, Damon Lindelof had this to say about how much the show meant to him before once again stating that he was okay if someone wanted to take over moving forward (via Deadline):
There hasn't been anyone, not publicly anyway, who has stepped up to take on Damon Lindelof's offer. But if someone were to take him up on it and take over the show, however, one of the biggest stars (and most celebrated) of the HBO series probably wouldn't return.
Regina King Has Said On Multiple Occasions That She Would Only Return For Season 2 If The Show's Creator Is Involved
Back in June 2020, Regina King, who was front and center throughout much of the happenings in Watchmen Season 1 as Angela Abar / Sister Night, spoke with Reese Witherspoon during Variety's Actors on Actors, where she had this to say about a potential return to the HBO series:
Several months later at the 2020 Primetime Emmy Awards, Regina King, after taking home the trophy for Best Actress in a Limited Series for her Watchmen role reiterated her stance on her previous comments (via Deadline):
If the show were to return without its showrunner and lead actress, Watchmen would look much different moving forward, that's for sure.
There is still so much to unpack about the future of Watchmen Season 2, if it happens at all. But if the fates do allow for the story to continue moving forward, CinemaBlend will have all the latest and greatest information about one of the most unique and intriguing superhero shows in recent memory.
Your Daily Blend of Entertainment News
Philip grew up in Louisiana (not New Orleans) before moving to St. Louis after graduating from Louisiana State University-Shreveport. When he's not writing about movies or television, Philip can be found being chased by his three kids, telling his dogs to stop barking at the mailman, or yelling about professional wrestling to his wife. If the stars properly align, he will talk about For Love Of The Game being the best baseball movie of all time.