Animaniacs' Reboot Temporarily Removed Episode From Streaming To Edit Out Accidental Phone Sex Reference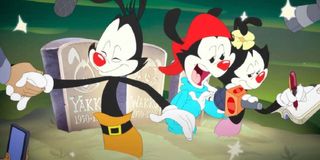 The Animaniacs reboot is officially here and it's been garnering both positive and negative attention thus far. While the beloved animated series has returned in top form for the first time in more than 20 years, the reboot immediately hit a snag and one of the Animaniacs' episodes was temporarily taken down shortly after it was released to Hulu to remove an accidental phone sex hotline number. Whoops!
Here's what happened. In the Animaniacs reboot's sixth episode, called "How to Brain Your Dragon," the villainous mastermind named Brain was once again plotting world domination (and fighting a dragon with co-conspirator Pinky). To aid in said domination, an advertisement aired with a phone number and an Acme Labs address. While the number was likely meant to be fake, it was actually a reference to a real-life phone sex hotline. Talk about awkward!
It's unclear why the animated show had the phone sex hotline's number in there, but it's up to you to decide whether it was an honest mistake or not. Either way, Brain wants world domination and I doubt he very much cares about viewers', uh, personal desires. The slip-up ultimately led the folks at Hulu to pull the sixth episode from its streaming service. It wasn't long before the episode reappeared, this time without the phone sex hotline number or the text. Take a look at the before and after below (via Twitter):
If the image of Brain standing there diabolically without the number or text looks weird, that's because it is. It seems that Hulu execs didn't want to wait too long for the episode to go back up and so it was added back to the season's line-up despite the lack of a number. That, as the Twitter user points out, makes for a rather befuddling watch for viewers who may not have known what's going on.
The upside is that the blank space led fans of the show to get creative, with many of them adding rather humorous text and phone numbers to go along with Brain's vengeful face and the purple background. Luckily, it seems the scene was given a final update and was subsequently uploaded to Hulu with a new number that is actually fake this time. Whew! Check out the final (we hope) iteration of the scene below!
I'm sure that most viewers who will tune in to watch Animaniacs will be none the wiser about what happened. As it stands, however, it's a rather odd (albeit sort of funny) predicament for the animated series to have been in.
The Animaniacs reboot is currently available to stream on Hulu. For more on what to watch elsewhere, be sure to check out our fall TV guide and our 2021 winter and spring premiere schedule.
Your Daily Blend of Entertainment News
Thank you for signing up to CinemaBlend. You will receive a verification email shortly.
There was a problem. Please refresh the page and try again.