How COVID Is Impacting Blake Shelton And Gwen Stefani's Wedding Plans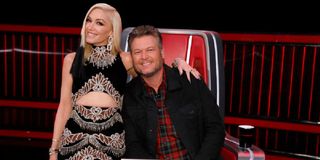 Blake Shelton and Gwen Stefani have surprisingly become the couple to watch over the last few years. The pair began dating in late 2015 and have been going strong ever since. Shelton and Stefani first met when they were both coaches on NBC's The Voice back in 2014 and, after several years together, the singers officially became engaged in October 2020. Fans are hoping the wedding will happen soon, but Stefani recently revealed how COVID-19 is affecting their trip down the aisle.
The global pandemic has put a pin in the biggest celebrations and weddings are at the top of that list. While some couples have opted to have Zoom weddings, Blake Shelton and Gwen Stefani haven't quite decided what's in store for their future nuptials. They're still newly engaged, but the dangers of COVID-19 have pretty much soured any plans for having an in-person ceremony anytime soon. When asked whether she'd prefer a small or big wedding in a post-COVID world, here's what Stefani told On Air with Ryan Seacrest:
It's completely understandable that her parents are fearful, especially with COVID-19 cases back on the rise. There's no reason to risk loved ones' safety, after all. That said, if Gwen Stefani definitely doesn't want anyone donning masks for her wedding, it might mean she'll have to wait until everyone is fully vaccinated, or she'll at least have to ask guests to quarantine before the wedding. It's a tough spot to be in, either way.
Gwen Stefani is leaving The Voice after Season 19, giving up her coach's chair to Nick Jonas for Season 20. Perhaps that will give her and Blake Shelton more time to figure out their wedding plan. In the meantime, COVID is still a big deal and poses a challenge for normalcy. However, Stefani seems patient. Here's how she put it:
Amidst all of the wedding planning, Gwen Stefani added that she has been focusing on making new music over the last several months. The singer recently released a new song called "Let Me Reintroduce Myself," and performed it on Monday night's episode of The Voice. Stefani's lyrics make it clear that the song isn't necessarily a comeback, but there's certainly a "new energy" being tapped into as she enters the next phase in her career and love life.
New episodes of The Voice Season 19 air on Monday and Tuesday nights at 8:00 p.m. ET on NBC. For more on what to watch in the coming months, be sure to check out our updated 2021 winter and spring TV premiere schedule.
Your Daily Blend of Entertainment News
Your Daily Blend of Entertainment News
Thank you for signing up to CinemaBlend. You will receive a verification email shortly.
There was a problem. Please refresh the page and try again.