Glee's Heather Morris Apologizes After Sharing Thoughts About Mark Salling, Who Committed Suicide After Child Porn Conviction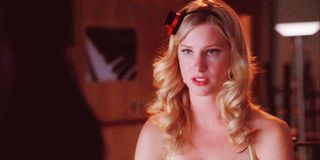 Heather Morris, who played the cheerleader Brittney Pierce on Glee, came under fire recently over a series of somewhat sympathetic tweets about former Glee co star Mark Salling, who took his own life at the beginning of 2018. Because Salling's suicide came after he pleaded guilty to possession of child pornography, many viewed Morris' words as insensitive, and after facing enough of a backlash for her defensive tweets, Morris has released an apology.
Heather Morris' apology seems to be one of understanding, as she appears to have taken the backlash to heart and thereafter reflected on what effects her initial tweets had on the people reading them. In her apology, she acknowledged that her words were likely triggering and harmful to victims of pedophilia and abuse. You can read it below.
While some fans did not take warmly to the apology, the vast majority of fans commenting on her apologetic tweet had nothing but renewed love for Heather Morris. In fact, many of her followers used their comments to express their belief that Morris should not have needed to apologize in the first place, even though some of those responses also got hated on by other commenters.
As far as why she felt the need to apologize about Mark Staling at all, everything started when a fan of the show posted about the 10th anniversary of the episode "A Very Glee Christmas." The tweet featured a still from the episode, containing a number of the OG cast members. Although he was not mentioned in the tweet, Mark Salling's face was blocked out in the photo by a puke-face emoji. After Kevin McHale, who played Artie Abrams on Glee, retweeted the fans post, Heather Morris responded by saying the puke face emoji was offensive.
After that tweet came under fire, Morris doubled down with a series of tweets defending why she was offended by the puke face, particularly at this time of the year. That said, she did cop to understanding why her initial tweet was controversial. Still, her tweets related to the controversy have been deleted since issuing her apology, but here is a full transcript of the string of defensive tweets:
As it was previously stated, some fans were on Heather Morris' side of the controversy. This is largely because, as Morris explained in the series of defensive tweets, her comment came from a place of mourning. The Glee Family has had a well known history of loss since the show ended in 2015, connecting everyone emotionally even further than typical casts. She was not defending Mark Salling nor his criminal actions, but rather the person she knew him to be while working alongside him, and all all while still mourning his loss, as well as the loss of two other Glee co stars.
The negative responses to her initial and defending tweets seem to have made Heather Morris look past her own pain and loss and be empathetic of how other people's experiences differ from her own. As made evident from her apology, Morris seems to regret that her words and feelings have made a negative impact on those who came into contact with them.
While waiting to hear more about this story, head to our 2020 Fall TV premiere schedule and our 2021 Winter and Spring premiere guide.
Constantly thinking about books, coffee, and the existential dread I feel from Bo Burnham's Inside. While writing I'm also raising a chaotic toddler, who may or may not have picked up personality traits from watching one too many episodes of Trailer Park Boys.
Your Daily Blend of Entertainment News
Thank you for signing up to CinemaBlend. You will receive a verification email shortly.
There was a problem. Please refresh the page and try again.