13 Taylor Swift Songs That Aren't About Love Stories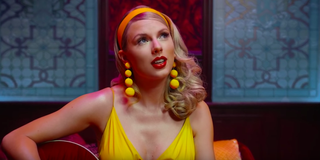 (Image credit: (TS/Republic))
Taylor Swift has been long marked as the hopeless romantic who wears sparkly eyeshadow and ruffled dresses of her early years. But glitter and enchantment is far from the songwriter's only concern throughout the past fifteen years. The 31-year-old singer may have shed her image numerous times over the years to match each of her album eras, but she's always been a storyteller at heart, and one that has written a ton of great songs about topics aside from meet-cutes, another "Love Story" or heartbreak. Let's talk about the Taylor Swift songs that have nothing to do with her who she's dating. She's a multifaceted artist, stop asking about her boyfriends!
Earlier this month, Taylor Swift spoke out against Netflix for the coming-of-age series Ginny & Georgia using a "deeply sexist joke" about her, where the show's protagonist says her mom goes "through men faster than Taylor Swift." It goes to show that the singer is still quite well known for the caricature that's been created about her. Swift has most definitely written some incredible songs about love and heartbreak over the years and will continue to, but let's celebrate the specific songs she has made that touches on other subjects alongside her standout lyrics in each of them.
The Best Day (Fearless)
Amongst Taylor Swift's 2009 Fearless album that also included "You Belong With Me," "White Horse" and yes, "Love Story," the once 20-year-old released an adorable song called "The Best Day" about her relationship with her mom, Andrea Swift. The sweet track takes listeners through her upbringing from five years old to the present alongside her mother, and how she's always been there for her through the ups and downs. And the best "Best Day" lyric goes to:
Soon You'll Get Better (Lover)
Taylor Swift continued to speak about her relationship with her mother ten years later on her 2019 album Lover. In a heartfelt song featuring The Chicks (formerly the Dixie Chicks) called "Soon You'll Get Better," Swift sings about her mother's cancer treatment. The song acts as a reprise to "The Best Day" as she references wearing a coat in the first line of each song. Dealing with a sick loved one is never an easy situation, and this song is like a warm shoulder for fans to cry on.
Tied Together With A Smile (Taylor Swift)
One of Taylor Swift's earliest songs was "Tied Together With A Smile," which the singer has said is about a friend who was a pageant princess and popular girl in school who had an eating disorder. The song is about a girl who doesn't recognize her own beauty, only the imperfections she sees in herself. The chorus talks about how she uses a smile to hide how she's feeling as she unravels on the inside. Swift tackled quite a serious and prevalent issue quite early in her career when she was very much within her country roots.
Fifteen (Fearless)
Taylor Swift continued to write through her friend's high school experiences with "Fifteen," a love letter to her best friend Abigail Anderson. The song has her meeting Abigail in class, going on her first date while her best friend also starts dating boys alongside her. It's a cute teen song that has some hints at young romance, but tells it all through the lens of going through it with Abigail by her side.
Never Grow Up (Speak Now)
Another lovely song where Taylor Swift sees life through another's eyes is 2010's "Never Grow Up" off her third album Speak Now. Swift said she wrote the song when she was 18 or 19 when her friend and model Jaime King made her the godmother of her baby. "Never Grow Up" is about the feeling of when she holds the baby and imagines the life ahead of him, and contemplates the concept of growing up. It's a tearjerker, this one!
Innocent (Speak Now)
Since Taylor Swift is one of the most famous people on the planet, her time in the spotlight was destined to spill into her personal songwriting. One of the most viral moments in Swift's career was when Kanye West interrupted her while she was accepting her VMA for "You Belong With Me." She penned "Innocent" for Speak Now in response to the awkward situation with West, which she performed at the VMAs a year following the incident.
Mean (Speak Now)
Like any major name, Taylor Swift has her own critics and 2011's "Mean" the artist addresses bullies who tear people down with their words. The folksy song is reportedly inspired by music critic Bob Lefsetz, who wrote that the artist "can't sing" after a 2010 performance with Stevie Nicks. The song serves a wider audience, for anyone who's dealt with people calling them names or bringing them down with their words or actions.
Blank Space (1989)
Taylor Swift went full pop star in 2014 with her album 1989 and one of its singles "Blank Space" played to the public's perception of her as a "serial dater". Swift said she wrote the song from the perspective of a "crazy, but seductive, but glamorous, but nuts, but manipulative" person that she felt the media had turned her into and filmed a chilling music video of her framing portraits of all her exes on walls in her house and destroying their belongings when they leave her. So yeah... she satirized herself!
I Did Something Bad (Reputation)
The singer went deeper and darker into her commentary on how fame has morphed people's perception of her on the 2017 album reputation. In the track "I Did Something Bad," Swift continues what she started with "Blank Space" by singing from the perspective of the persona she's been made out to be. The song is also heavily inspired by Game of Thrones – Taylor told EW she wrote it after she watched the episode where Sansa and Arya conspire to kill Littlefinger.
You Need To Calm Down (Lover)
Taylor Swift's Lover album proceeded reputation with a return to form away from her trap pop experimentation, but offered notes of activism. "You Need To Calm Down" specifically gleefully calls out internet negativity while also celebrating individuality in others, namely throwing in her support for the LGBTQ+ community. At the time of the song's release, Swift released the song alongside an urge for her fans to support the Equality Act, which would protect LGBTQ people from discrimination in their places of work, homes, schools, and other public accommodations.
The Last Great American Dynasty (Folklore)
Following the start of the COVID-19 pandemic, the songwriter traded in her bright neon colors and large-scale production, for two introspective sister albums made in quarantine called folklore and evermore. In folklore, the singer wrote an entire album mostly of invented scenarios or stories of other people. In "the last great american dynasty," Taylor Swift wrote about the woman who lived in her Rhode Island "Holiday House" before her, Rebekah Harkness. Through the song, she paints a colorful picture of how she imagines the real-life socialite.
Marjorie (Evermore)
Taylor Swift's quarantine music continues to explore the women she is connected with through her past with a tearful track called "marjorie," which is about her late grandmother, Marjorie Finlay. The song is about how she often remembers Marjorie in dreams and in memories of when she was a kid. The song is ultimately about how she wishes she had her with her now to give her the wisdom she would want from her now, but she holds tight to what she does have left of her.
No Body, No Crime (Evermore)
Do you remember when I said Taylor Swift is a multifaceted artist? Well just look? Taylor Swift has covered so many aspects of her life outside of romance and heartbreak, it's overwhelming! And not only that, she's also pivoted to making up stories in songs with her good friends the HAIM sisters for a song off evermore called "no body, no crime," that sounds like a western movie about a woman who notices her husband has been cheating on her and hatches some kind of nefarious plan with her girls.
There's undoubtedly more to come from Taylor Swift's creative songwriting mind! Most notably, the singer will be re-recording many of her albums, starting with 2009's Fearless. Until then, rock out to her expansive 15-year discography!
YA genre tribute. Horror May Queen. Word webslinger. All her writing should be read in Sarah Connor's Terminator 2 voice over.
Your Daily Blend of Entertainment News
Thank you for signing up to CinemaBlend. You will receive a verification email shortly.
There was a problem. Please refresh the page and try again.