9 Spectacular Shows Appearing On Netflix In April 2021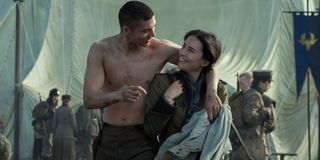 The weather is getting warmer in a lot of places, and as tempting as that may be to get out and do something, Netflix is still providing ample reason to stay home and binge shows. April is one of the strongest months of content the streaming service has had in 2021, and that's evidenced by some of the awesome shows that will arrive.
This month features deadly killers, lots of family fun, and a series that I'm a little surprised wasn't cancelled after the drama it caused but I'll let it slide because it has Dustin from Stranger Things in it. Let's dive into all that below, as well as the young adult series that may dominate our lives come the month's end.
Prank Encounters (Season 2) - 4/1
Remember that Netflix show that featured Gaten Matarazzo that caused a lot of controversy? Well, apparently, that wasn't enough for the streamer to send Prank Encounters to the Upside Down, and now the show that viewers feared tricked people into thinking they got a job is back for another season. This time around, unsuspecting subjects will be exposed to premises that include ancient burial grounds and even a haunted mansion. Personally, I'm curious to see whether audiences will forget the original controversy or blow this show up all over again because of the premise.
The Serpent - 4/2
The Serpent takes on the real-life murders of Charles Sobhraj in the 1970s, which happened along the "hippie trail" in South Asia. The series stars The Looming Tower's Tahar Rahim and a face Doctor Who fans know well, Jenna Coleman. I can personally say I enjoyed the stuff I've seen both actors in, though they weren't thieves who killed and took people's identities just because they could. With the star power attached, I expect this series will draw some eyes and possibly be the next hit true-crime drama series we're all talking about next month.
Family Reunion (Part 3) - 4/5
The McKellan family is back and will prove yet again that love and family can conquer all kinds of heartaches, hardships, and loss in life. Of course, it's not all as heavy as it sounds, as Family Reunion gets up to the typical sitcom hijinx that fans who enjoyed the past episodes have grown fond of. Plus, Tia Mowry is a riot in this show, so definitely make a point to check this one out if you're looking for a fun and wholesome family drama.
The Wedding Coach - 4/7
Just on the heels of another marriage series, Netflix is at it again with The Wedding Coach. In this series, comedian Jamie Lee will mentor six engaged couples and help them navigate all the stressful moments that can come from planning and actually having a wedding. As someone who has been through the process, it sounds like a really ambitious series given the sheer amount of things that can and do go wrong on a big day. Wouldn't it just be easier to coach these couples in advance that it's not that big of a deal?
The Circle (Season 2) - 4/14
One of my favorite reality competitions since Big Brother is back, and I can't wait to see how Netflix's The Circle does in its sophomore season. I enjoyed Season 1, though I'm certainly hoping the next season of this weekly release series introduces more people willing to make waves in private chats, create a catfish persona, and stress a less "kumbaya" kind of vibe amongst other competitors. After all, this is a game with a good chunk of money on the line! We need more people willing to sabotage others for that cash, and do what they can to raise their popularity however possible!
Dad Stop Embarrassing Me! (Season 1) - 4/14
Jamie Foxx has a new series on Netflix, and for anyone looking for another family comedy to jump into, here's your sign. When his daughter comes to live with him, Brian Dixon does all he can to be there for her as she tackles all the big issues in life. Of course, he's got some help from his best friend, sister, and his dad. Based on the title, I'm assuming there's some embarrassment that happens through this, and it probably isn't Brian's father embarrassing him. That would be a great subversion of expectations though!
Life In Color With David Attenborough - 4/22
It's basically a rule now that if one sees David Attenborough's name attached to a series, they should expect a visually stunning docuseries. Life in Color with David Attenborough is exactly that, in which Attenborough travels the world in a three-part series unveiling the various ways that animals use color. It utilizes new camera technology that was made for the series, and the fact it airs on Earth Day makes it the perfect environmentally conscious series to watch on the day.
Shadow and Bone - 4/23
After lots of hype from Netflix, Shadow and Bone will finally arrive on Netflix in April. This young adult fantasy series centers around orphan mapmaker Alina Starkov after it's discovered she has an extraordinary power that could change her life and the lives of those around her. Of course, there are some dark forces that wish to put a stop to that power. Whether they'll be successful remains to be seen, as the book this series is adapted from is a trilogy, so there's a lot of source material for future seasons if it's a hit.
Headspace Guide To Sleep - 4/28
Netflix subscribers struggling with sleep may find the next Headspace series very helpful, as Headspace Guide To Sleep explores the various aspects of sleep. The meditation guide was very interesting, so I have to think the same will be true of this upcoming guide. With that said, maybe it's not something that someone who is suffering from sleep disorders should watch at night, lest they be too entertained and lose sleep because of it.
Catch all these shows and more on Netflix in the month of April. Of course, there are also many other shows and movies headed to the streaming service in April, so be sure to check out the full list of offerings right here.
Mick likes good television, but also reality television. He grew up on Star Wars, DC, Marvel, and pro wrestling and loves to discuss and dissect most of it. He's been writing online for over a decade and never dreamed he'd be in the position he is today.