Tamera Mowry Opens Up About Not Having Seen Twin Sister Tia Since The Pandemic Began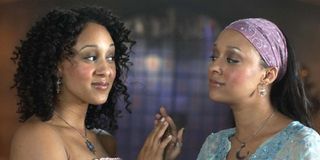 The ongoing pandemic has been really hard on all of us. Friends and loved ones have been unable to visit each other as frequently as usual (if at all) due to quarantine and social distancing measures put in place due to COVID-19. Such has been the case for Tamera Mowry-Housley, who recently opened up about not having seen her twin sister, Tia Mowry-Hardrict, since the pandemic began.
Tia and Tamera Mowry are pretty inseparable. The twins have starred in the '90s sitcom Sister, Sister and a plethora of movies like Twitches and Seventeen Again together. So you can imagine my surprise when Tamera revealed that she hadn't seen her sister in over six months. Here's what she told ET:
Tamera Mowry-Housley added that this is the longest she and her twin sister have ever been apart. That's so sad considering how close the pair are and how often they probably saw each other before the start of the pandemic. In an ET interview from March, Tia got emotional about how hard it was not seeing her sister and the rest of her family. It's been over six months since then, and I'm sure it hasn't been any easier.
Despite their physical distance from each other, Tamera Mowry-Housley did reveal that she and her other half are still in constant contact. In fact, they set up a new tradition that was started during quarantine, and I think it'll likely remain until they're reunited. Here's how Mowry-Housley put it:
In August, Tia Mowry-Hardrict opened up to Kelly Clarkson about the struggles of parenthood while in quarantine. During an appearance on The Kelly Clarkson Show, Mowry-Hardrict admitted that she was hiding her emotions from her kids at the start of quarantine because she didn't want them to see her be "kind of all over the place."
Stay tuned to CinemaBlend for updates on all things TV, and be sure to check out our 2020 fall TV schedule to find out what's premiering soon.
Your Daily Blend of Entertainment News
Thank you for signing up to CinemaBlend. You will receive a verification email shortly.
There was a problem. Please refresh the page and try again.