Whose Line Is It Anyway? And 5 Other Improv Comedy Shows To Watch On Streaming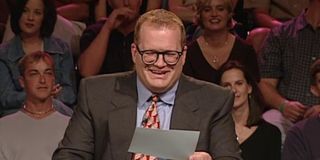 CinemaBlend participates in affiliate programs with various companies. We may earn a commission when you click on or make purchases via links.
Who says that good comedy needs a script? I, for one, would argue that some actors, especially with the right training, have often proved to be at their funniest in a more spontaneous environment and left almost completely to their own devices to make up nearly everything that they say and/or do right off the top of their heads. Thankfully, there are a good number of improv comedy shows, either in a short-form competitive style like Whose Line Is It Anyway? or more long-form and with a pre-meditated narrative like Curb Your Enthusiasm, which are currently available to watch on some of your favorite streaming platforms.
To clarify, by "improv comedy shows," I am not just referring to any comedy series which may encourage the cast to come up with a few lines on their own, like The Office cast had been known to do on set. I am talking about shows in which, even in the event that there is already a story arc in mind to be followed, there is not a single line of dialogue written beforehand, allowing for the most natural character reactions possible. The following six series are widely considered to be the gold standard in improvisational comedy on TV which you can stream right now, starting with one that can also be found on your 2021 TV schedule.
Whose Line Is It Anyway? (HBO Max, CW Seed, Hulu)
The formula is simple: take four talented comedians, give them a prompt, and let jokes roll in. The hilarious antics from games like "Scenes From a Hat" or "Hoedown," made Whose Line Is It Anyway? a crucial ally in improvisational comedy's rise in popularity during its initial run on ABC from 1998 to 2002 and later on Freeform (when it was still called ABC Family) from 2004-2007.
You can find the U.S. edition - hosted by executive producer and current The Price is Right host Drew Carey and featuring the talents of Wayne Brady, Ryan Stiles, and Colin Mochrie among other rotating performers - on HBO Max and The CW's ongoing reboot, hosted by Aisha Tyler, on CW Seed. Also, be sure to check out the British iteration of Whose Line Is It Anyway? which started it all, hosted by Clive Anderson, on Hulu.
Stream Whose Line Is It Anyway? on HBO Max (opens in new tab).
Stream Whose Line Is It Anyway? (New) on CW Seed.
Stream Whose Line Is It Anyway? (UK) on Hulu (opens in new tab).
Wild 'N Out (Paramount+)
By taking a page a page from the Whose Line Is It Anyway? rule book - specifically the one with details about funny games, improvisational singing, audience suggestions, and celebrity guests - creator, host, and participant Nick Cannon crafted a new improv comedy show for the MTV crowd that, fittingly, is on MTV. The biggest difference with Wild 'N Out, however, is that the points actually do matter and determine, by the end of the game, whether the performers on the Black Squad or the Red Squad (usually led by Cannon) were the funniest of the night.
The Black Squad's victory is often determined by the talent of that episode's celebrity guest leader - a position held by the likes of Sharknado star Tara Reid, one of the world's most popular comedians, Kevin Hart, and even Whose Line vet Wayne Brady. Also keep an eye out for future Saturday Night Live cast members Taran Killam and Mikey Day when they were best known as Wild 'N Out recurring players.
Stream Wild 'N Out on Paramount+ (opens in new tab).
Middleditch & Schwartz (Netflix)
Now, imagine if, during a taping of Whose Line Is It Anyway?, there was only one game that lasted whole night, was entirely generated by an audience member's suggestion, and was performed by just two gentlemen. It almost sounds like a train wreck waiting to happen, but, even with things do go a bit off the rails, Middleditch & Schwartz is actually a stroke of pure comedic brilliance.
The Netflix original is a series of three hour-long comedy specials featuring Parks and Recreation cast favorite Ben Schwartz and Silicon Valley star Thomas Middleditch as they make up an entire story told through multiple characters and a bizarre sequence of events right in front of a live studio audience and all by themselves. As one of the funniest surprises to come out in 2020, Middleditch & Schwartz is one of the best shows to binge watch on Netflix and, in a short enough time, watch all three specials again and again.
Stream Middleditch & Schwartz on Netflix (opens in new tab).
Curb Your Enthusiasm (HBO Max)
Speaking of making up an entire story, that is, surprisingly, much of what the creative process behind Curb Your Enthusiasm is. In his hit follow-up to Seinfeld, star and creator Larry David plays a fictionalized version of himself with such severe neuroses that he increasingly gets himself and others into horrifically awkward misunderstandings with his wife (Cheryl Hines), friends (including Jeff Garlin), and random strangers.
The hilariously meta Hollywood satire, which is going into Season 11 on HBO, does not use a script, but allows the Curb Your Enthusiasm cast to come up with all the dialogue on the spot while following a pre-written story outline. As the success of this Emmy-winning hit will show, sometimes the best way to create the most wildly funny situations is to let some really funny people go wild.
Stream Curb Your Enthusiasm on HBO Max (opens in new tab).
The League (Hulu)
"Funny people going wild" might as well have been title of this cult FX comedy if not for the theme of fantasy football inspiring an even better name. The League, one of the funniest shows on Hulu, follows a group of six friends (two of whom are a married couple) whose lives revolve entirely around outwitting each other in the world of fantasy sports - a typically friendly form of competitive ribbing which these infantile grown-ups take dangerously seriously.
As a pioneer of the mumblecore movement, Mark Duplass (also the "co-writer" and star of found footage thriller Creep) is the perfect choice to lead the cast (also including Big Mouth's Nick Kroll) through a show that relies entirely on improvised dialogue in the same vein as Curb Your Enthusiasm. What results on The League is not too different from the same sort of playful ribbing lifelong friends with a love for sports put each other through, but exaggerated to a dizzying extreme.
Stream The League on Hulu (opens in new tab).
Reno 911! (HBO Max, Comedy Central)
"Extreme" would also be a fitting adjective for the sort of bizarre, almost violent shenanigans seen on this Comedy Central original from co-creators Thomas Lennon, Robert Ben Garant, and Kerri Kenney, who have also led the Reno 911! cast since its 2003 premiere season all the way to its revival on Quibi in 2020. The series follows the daily grind of a Nevada sheriff's department filled with a colorful and sometimes flamboyant assortment of characters, all captured by one brave camera crew.
Being partially unscripted really lends to the mockumentary style of this legendary cult favorite, which would later inspire a feature-length spin-off, Reno 911! Miami, in 2007. It feels just as exciting and unpredictable as the reality shows it pokes fun at, namely the recently cancelled Cops, but, thankfully, none of the laughter you experience with Reno 911! is ironic or anything to be ashamed of… by comparison, at least.
Stream Reno 911! on HBO Max (opens in new tab) or on Comedy Central.
Growing up with Whose Line Is It Anyway? first got me interested in improvisational and even at the idea of trying it out myself one day. Did the series have the same effect on you, or is there an improv comedy show on TV which you prefer more?
This poll is no longer available.
Your Daily Blend of Entertainment News
Jason has been writing since he was able to pick up a washable marker, with which he wrote his debut illustrated children's story, later transitioning to a short-lived comic book series and (very) amateur filmmaking before finally settling on pursuing a career in writing about movies in lieu of making them. Look for his name in just about any article related to Batman.
Your Daily Blend of Entertainment News
Thank you for signing up to CinemaBlend. You will receive a verification email shortly.
There was a problem. Please refresh the page and try again.