Looks Like The Morning Show's Jennifer Aniston Isn't A Mondays Person Either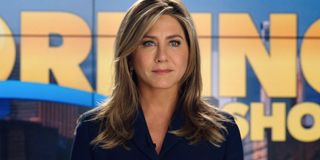 Jennifer Aniston's The Morning Show shows her as the successful host of an early morning news show whose job it is to be put together and presentable to millions of people. Real life doesn't always meet on-screen expectations, though, and Aniston appears to hate Mondays just as much as the rest of us.
Like her on-screen character Alex Levy, Jennifer Aniston has an audience of millions. Unlike her The Morning Show character, though, she doesn't feel the need to appear as perfect all of the time to her viewers. Recently Aniston posted a picture of herself on her Instagram that can only be described as how many of us feel every Monday morning. Check it out:
Even though the post screams Monday Meltdown with her caption being "And it's only Monday", Jennifer Aniston still looks like a goddess. I don't know how it's possible for someone to look so effortlessly gorgeous while simultaneously relating to the rest of us dealing with exhaustion, but she somehow pulls it off in the best way possible.
Everything about Jennifer Aniston in the photo is flawless. Between her solid black suit, black high heels, and gracefully draped body language, it's hard to believe this is her on a Monday. In fact, if I was 10% as photogenic as Aniston is in this photo on my best day, I could probably have a successful career in Hollywood too.
The fans seem to agree that Jennifer Aniston is pretty perfect, even if she is having some difficulties getting started on a Monday. The comment section on her post is full of fire and heart emoji praises, from both fans and celebrities alike. Listen, a fire emoji from model Naomi Campbell really means something, and Aniston got TWO!
Jennifer Aniston's beauty aside, another thing her post has accomplished is bringing attention to her The Morning Show series. Some commenters who have seen the show are saying they can't wait for filming complete so they can see the newest season. Other fans of the actress are glad to have her back posting after almost a month of social media silence and may even keep a closer eye for future developments on the show.
The Morning Show is in development of its second season, and although an air date has not yet been released, it's speculated that a new season will drop this fall streaming on Apple TV+. Jennifer Aniston is not the only big name in the show, as it also features Steve Carell, Mark Duplass, and of course Reese Witherspoon. With two strong and iconic female leads in Aniston and Witherspoon, it's not a wonder that fans of Aniston's strong Monday pose would also be fans of the Apple TV+ series that is also executive produced by Aniston herself.
Jennifer Aniston may not be much on Mondays, just like the rest of us, but it's pretty clear that we are not the same.
Your Daily Blend of Entertainment News
Constantly thinking about books, coffee, and the existential dread I feel from Bo Burnham's Inside. While writing I'm also raising a chaotic toddler, who may or may not have picked up personality traits from watching one too many episodes of Trailer Park Boys.
Your Daily Blend of Entertainment News
Thank you for signing up to CinemaBlend. You will receive a verification email shortly.
There was a problem. Please refresh the page and try again.