Why Outlander Didn't Get Any Emmy Nominations Despite Fantastic Season 5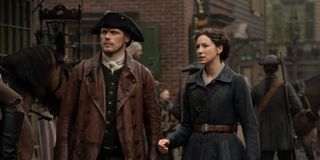 (Image credit: Starz)
Outlander raised the stakes for the extended Fraser family in the fifth season, delivering some developments that have been a long time coming while also setting the stage for what seems to be inevitably on the way in the not-too-distant future. Between the game-changing deaths and a finale that showcased Caitriona Balfe in a way that had never been done before, Outlander Season 5 seemed like a prime contender for some awards attention. So, why was it wholly left out of the just-released 2021 Emmy nominations?
The answer is fairly straightforward, albeit disappointing for any fans who were hoping to see members of the Outlander team take home some trophies from the 2021 Emmys. For shows to be eligible for the 2021 Emmys, they had to air between June 1, 2020 - May 31, 2021. Unfortunately, the fifth season aired from February 16, 2020 - May 10, 2020, making Outlander miss the window of eligibility.
And personally, I wish that there was some way to bend the rules to get Outlander in there. While I certainly won't argue that it was a perfect season of television, I was definitely crying my way through most of "The Ballad of Roger Mac" as soon as Murtagh was mortally wounded, despite being pretty confident heading into the episode that Duncan LaCroix's character was going to meet his end. My heart was in my throat while Brianna was back in Bonnet's clutches. Jamie wearing a red coat was a striking visual that Sam Heughan fought for, not to mention what Jamie had to do while wearing it.
And not enough can be said about Caitriona Balfe's performance in the Season 5 finale, as Outlander avoided showing the full brutality of what she was going through but Balfe still conveyed what was happening even as Claire was trying to escape into her own mind. I can't say that I especially enjoyed the Season 5 finale, but that's because of how devastating the story was for Claire (and her loved ones), and Balfe turned in one of her best performances of the series, if not the best.
Then again, there's no guarantee that Outlander would have gotten the acknowledgment that fans can probably agree the show deserves from the Emmys. Over the five seasons that have aired so far, the episode Starz series has received only four Emmy nominations, and even then was snubbed in the major categories.
That's not to say that Outlander didn't deserve to be honored with nominations for Outstanding Music Composition for a Series (2015), Outstanding Production Design for a Narrative Period Program (2016), Outstanding Costumes For A Period/Fantasy Series (2016), and Outstanding Period Costumes (2018), but couldn't it at least have gotten some Best Drama attention over the years? And what about all the particularly well-written episodes, and the directors who crushed their episodes? And let's give Bear McCreary some awards attention for the Outlander music as well, while we're at it.
Am I being a little dramatic about all the Outlander snubs over the years? Maybe, but I still stand by my belief that Sam Heughan deserved all the awards attention for the last couple episodes of Season 1, when Jamie was in the clutches of Black Jack Randall. Like with Caitriona Balfe's Claire in the Season 5 finale, I can't say that I enjoyed those episodes, but Heughan absolutely crushed them, and Heughan not getting nominated for that was the first sign I took that Outlander might not get the awards recognition it deserves.
And honestly, if Game of Thrones could win Outstanding Drama Series for its polarizing (to put it kindly) final season after scoring a record-breaking number of nominations, Outlander has earned much more awards attention than it has gotten so far. I do wonder if Season 5 would have packed in enough for the Emmys to actually hand down some major nominations if it had been eligible. I like to think that Caitriona Balfe at least would have gotten the accolades she more than earned for her performance in the Season 5 finale, but I'll sadly never know.
I'll just need to hold out hope that the upcoming Season 6 deserves and gets some nominations next time around. The sixth season won't premiere until 2022, but the first four seasons are available streaming on Netflix now.
Resident of One Chicago, Bachelor Nation, and Cleveland. Has opinions about crossovers, Star Wars, and superheroes. Will not time travel.
Your Daily Blend of Entertainment News
Thank you for signing up to CinemaBlend. You will receive a verification email shortly.
There was a problem. Please refresh the page and try again.