His Dark Materials Cast: Where You've Seen The Actors Before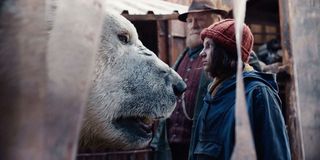 When it comes to fantasy series, we are living in a day and age where there are so many, it's almost hard to focus on just one, and His Dark Materials on HBO is one of the best. With a star-studded cast, a wonderful story, and effects that rival those of movies, His Dark Materials has everything you could possibly need and more for a fantasy show that could be as big as Game of Thrones.
But with a cast as large as the one in His Dark Materials, fans of the show might be wondering where exactly they might have seen the cast before. Are they in any of the shows that are on the 2021 fall TV schedule? Are they in any other HBO TV show? Truly, this is cast filled with talent, and if you're wondering where they could have been seen before, look no further than here.
Dafne Keen (Lyra Belacqua)
As the lead character of His Dark Materials, Lyra is a young girl with a lot of heart and bravery packed deep within her, and that could only be played by the wonderful Dafne Keen. While she is young, she is extremely talented, and has had a couple of film and TV roles prior to His Dark Materials.
Her biggest thus far has been playing Laura, her debut feature role, in the X-Men film, Logan, alongside Hugh Jackman. Other than that, she's had roles in another film, the comedy-drama, Ana, and made an appearance in The New Mutants. She also had a recurring role on The Refugees, playing Ana Oliver. With a part in a series as big as this one, I can't wait to see where her career goes from here on out.
Ruth Wilson (Marisa Coulter)
Lyra's mother, Marisa Coulter, is a powerful woman, and she shows it constantly throughout the show. Ruth Wilson, who plays Maria Coulter, has appeared in several films and TV shows prior to her role in His Dark Materials. This includes films like the drama movie, Anna Karenina, the western, The Lone Ranger, the biographical film, Saving Mr. Banks, the Netflix film, I Am The Pretty Thing That Lives In The House, the drama film, Dark River, and many more.
Wilson has also had several roles in TV, such as a part in the miniseries, Jane Eyre, as Alice Morgan in Luther, Alison Lockhart in The Affair, and played the titular character in Mrs. Wilson, a miniseries.
Anna-Marie Duff (Maggie 'Ma' Costa)
Ma played an important role during Season 1 of His Dark Materials, as the woman who has previously nursed Lyra when she was a baby, and she was played by the wonderful Anna-Marie Duff.
In terms of film, Anna-Marie Duff has had several roles, including parts in Enigma, The Magdalene Sisters, Notes on a Scandal, The Last Station, Nowhere Boy, Before I Go to Sleep, and several others in her long career. She's also done plenty on television. Her biggest role was playing Fiona Gallagher in the British version of Shameless, but has also had parts in The Virgin Queen, The History of Mr. Polly, From Darkness, The Salisbury Poisonings, the Netflix original series, Sex Education, and many more.
James Cosmo (Farder Coram van Texel)
Farder Coram van Texel was another prominent figure in the first season of His Dark Materials, and was played by the amazing James Cosmo. For those who don't know, James Cosmo has done plenty in the fantasy realm prior to his role in His Dark Materials, including having a part in the fantasy film, Highlander. Cosmo has also had roles in films like Braveheart, Trainspotting, Troy, The Chronicles of Narnia: The Lion, the Witch, and the Wardrobe, Ben-Hur, and the superhero film, Wonder Woman.
Cosmo has also had a very prominent career in TV that has also included a big fantasy role, playing Jeor Mormont on the fantasy series, Game of Thrones. He's also had recurring and guest roles in shows like Sons of Anarchy, Roughnecks, The Name of the Rose and more. It's no surprise that someone who's had this much practice in fantasy has come over to another fantasy series to shine.
Ariyon Bakare (Lord Carlo Boreal)
I think all of us are a little bit jealous that Lord Carlo Boreal can just cross between two worlds - wouldn't that be so cool if we could all do that? In His Dark Materials, Lord Carlo Boreal is played by Ariyon Bakare, whose been in some big-time films and TV shows.
In terms of movies. Bakare has appeared in Jupiter Ascending, Life, Frankie, and more. But Bakare has also had some main, guest and recurring roles in TV, including the Amazon original miniseries, Good Omens, Carnival Row, Doctor Who, and plenty others. I'm eager to see what he does after getting a lead role in a show as big as His Dark Materials.
Will Keen (Father Hugh MacPhail)
There are plenty of Magisterium officials in His Dark Materials, but I don't think anyone is quite as big as Father Hugh MacPhail. Played by Will Keen, he is actually the real-life father of Dafne Keen, the star of the series. It's always fun to see family act together in shows like this.
In terms of his career, it seems that Keen has focused his career more on television, with plenty of roles in big series prior to His Dark Materials. He has a part in Wolf Hall, THe Impressionists, a role in the Netflix original series, The Crown, Silk, Titanic, The Musketeers, and even had a role alongside his daughter in The Refugees as well.
Gary Lewis (Thorold)
Asriel's assistant in His Dark Materials, Thorold, is played by Gary Lewis, and I couldn't picture anyone else playing him besides Lewis himself. Lewis has had several roles in film, but some of his most notable have been parts in Billy Elliot, Joyeuz Noel, Gangs of New York, Eragon, Three and Out, and The Vanishing.
Lewis has also had some bigger roles in TV as well. He's had parts in miniseries' such as Gunpowder, Treason and Plot or Prime Suspect 7: The Final Act, a recurring role in the fantasy series, Outlander, a part in docudrama, Supervolcano, a spot in the Netflix original series, Frontier, and many more.
Lewin Lloyd (Roger Parslow)
As Lyra's best friend in His Dark Materials, I think we all have a special soft-spot for Roger Parslow. He's a sweet kitchen boy who deserves the world, and could only be played by the wonderful Lewin Lloyd. Like his other young co-star, Lloyd hasn't had the chance to be in several films and TV shows just yet, but in the few he has been in, he's made himself known.
In terms of film, Lloyd had a part in The Aeronauts, as well as the drama film, Judy. With television, he had a recurring role on the TV series, Taboo, and one in the series, The Alienist, while also having guest roles in shows like Doctor Who and Fortitude. With how amazing his acting was in His Dark Materials, I have a feeling we'll be seeing this young actor a lot more in the future.
James McAvoy (Lord Asriel Belacqua)
To be completely honest, I don't think I could ever picture another person more perfect to play Lyra's father, Lord Asriel Belacqua, than James McAvoy in His Dark Materials. The actor has been prominent in both film and TV for some time now, so I wouldn't be surprised if you've seen him before.
For just a sampling of all the films James McAvoy has starred in, he's had roles in The Chronicles of Narnia: The Lion, the Witch, and the Wardrobe, played Charles Xavier in the X-Men series, did voice work with films like Gnomeo and Juliet and the classic Christmas film, Arthur Christmas, had the lead role in the thriller film, Split, which he reprised later in Glass, and has had several other roles.
In terms of TV, he's also been in plenty shows as well, including a role in the British version of Shameless, State of Play, Frank Herbert's Children of Dune, Watership Down, and more.
For someone as talented as James McAvoy, it's not a shocker that he decided to take his talents to a big-time HBO show, and I can't wait to see him more in His Dark Materials Season 3.
Lin-Manuel Miranda (Lee Scoresby)
Starring as one of the Aeronauts in His Dark Materials, Lee Scoresby, Lin-Manuel Miranda has had quite the career in the last decade. He was very prominent in the theater industry, having created two Tony Award-winning hits - Hamilton: An American Musical and In the Heights. Both musicals have gone on to have their own film versions. Hamilton was taped for Disney+, and the feature adaptation of In the Heights came out on HBO Max and in theaters in 2021.
Besides that, however, Miranda also wrote all the songs for Moana, the Disney film, and was part of the Vivo cast on Netflix, voicing the titular kinkajou character. While His Dark Materials is one of Lin-Manuel Miranda's biggest acting gigs on TV, he's had several guest roles in series before, including BoJack Horseman, Curb Your Enthusiasm, and has done various voice roles on Ducktales.
To be honest, I wouldn't be surprised if Miranda's character randomly started to rap in His Dark Materials with how musically-talented he is, but at the same time, that sounds like an awesome addition to Lee Scoresby.
Ruta Gedmintas (Serafina Pekkala)
Witches have always been some of my favorite characters in film and TV - I grew up loving the Harry Potter movies, so are you surprised? - and Serafine Pekkala is definitely one of the greats, in my opinion.
Played by the wonderful Ruta Gedmintas, the actress has mainly kept her focus on TV, with roles in series such as The Strain, Spooks: Code 9, The Borgias, The Tudors, Lip Service, The Innocence Project, Do No Harm and more. Hopefully after her role in His Dark Materials, we can get to see her in many more projects.
With such a talented cast that far surpasses even this list, His Dark Materials is definitely building up to be an awesome series with Season 3 coming out soon. I can't wait to see all my favorite characters again, in a fantasy world that we can escape into one more. Hopefully, Season 3 can arrive sooner rather than later.
Big nerd and lover of Game of Thrones/A Song of Ice and Fire. Will forever hate season eight. Superhero and horror geek. And please don't debate me on The Last of Us 2, it was amazing!
Your Daily Blend of Entertainment News