American Horror Story: 18 Actors You May Have Forgotten Were On The FX Series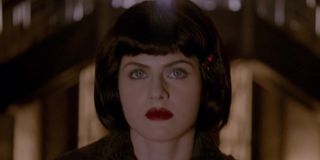 CinemaBlend participates in affiliate programs with various companies. We may earn a commission when you click on or make purchases via links. -
It is hard to believe that it has been a decade since co-creators Ryan Murphy and Brad Falchuk introduced us to the bizarre, disturbing, psychosexual world of American Horror Story - FX's acclaimed seasonal horror anthology that would make household names out of Sarah Paulson and Evan Peters, to name a few. Of course, we should not forget about some of its biggest guest stars, like Alexandra Daddario or Modern Family's Eric Stonestreet, but if their appearances did slip your mind, we don't blame you. In fact, there are a few other familiar faces we found ourselves surprised to see in the earlier seasons upon rewatch and, in honor of American Horror Story Season 10 (subtitled Double Feature) hitting the 2021 Fall TV schedule, we decided to revisit their roles, such as this A-lister who can call one of the best horror TV shows ever one of her first gigs ever.
Rosa Salazar (Nurse Maria, Season 1)
It was not until she more recently starred in Bird Box and the Netflix original miniseries Brand New Cherry Flavor when Rosa Salazar began earning a reputation as one of the top horror Scream Queens of modern day. However, the genesis of this was actually when the Alita: Battle Angel actress was in a few episodes of American Horror Story Season 1 as a nurse brutally stabbed to death in the "Murder House."
Kate Mara (Hayden McClaine, Season 1)
I would also consider Kate Mara to be a bit of a Scream Queen for her roles in Morgan, 2015's Fantastic Four (which some would say counts for different reasons), and, especially American Horror Story's first season as a student of Ben Harmon (Dylan McDermott) who became his mistress and, later, obsessive stalker. Ironically, the Emmy nominee would play the reverse role (minus the stalking and depravity) on the FX on Hulu miniseries, A Teacher.
Heather Langenkamp (Female Toulouse / Tupperware Housewife, Season 4)
Speaking of scream queens, it is no secret that Ryan Murphy (also the creator of a show literally called Scream Queens) has an affinity for some of horror movies' most iconic actresses, which is why he has cast a few on American Horror Story. However, fans of A Nightmare on Elm Street were probably quicker to spot Heather Langenkamp (Nancy in the Wes Craven classic) when she appeared on the Freak Show season as a Tupperware party guest.
Alexandra Daddario (Natacha Rambova, Season 5)
One of today's leading Scream Queens (for Texas Chainsaw, What We Do in the Shadows, etc.) is Alexandra Daddario, who recently starred on HBO's dark miniseries comedy The White Lotus. A year after her memorable role on another popular seasonal anthology, True Detective, the actress played a highly fictionalized version of Rudy Valentino's (Finn Whitrock) costume designer wife, Natasha Rambova, who is reimagined on American Horror Story: Hotel as a vampire.
Alexandra Breckenridge (Young Moira O'Hara, Season 1 / Kaylee, Season 3)
Another famous Alexandra who has starred on American Horror Story is Alexandra Breckenridge, whom many might know best today as the lead of the Virgin River cast on Netflix. Years earlier, she played the younger image of the Harmons' ghostly maid Moira (Frances Conroy) in Murder House and briefly appeared in Coven as a victim of serial witch hunter, Hank (Josh Hamilton).
Christian Serratos (Becca, Season 1)
Alexandra Breckenridge's former The Walking Dead cast mate Christian Serratos also appears on American Horror Story Season 1, but in a far more brief role. She plays one of three bullying teens who gang up on Violet Harmon (Taissa Farmiga) for smoking a cigarette on school ground.
Ian Anthony Dale (Dr. David Zhong, Season 3)
Former Hawaii Five-0 cast member Ian Anthony Dale is joining The Walking Dead Season 11 cast, but also has a small part on American Horror Story in common with Christian Serratos. In Season 3, he plays a biochemist whom Fiona Goode (Jessica Lange) demands help her remain youthful, only to meet a bitter end when his prescription fails.
Mike Colter (David, Season 3)
Another American Horror Story: Coven actor who may have slipped from your memory is Mike Colter, who appeared in three episodes as member of a secret witch hunters organization who also meets a bitter end at the hands of real-life, unidentified serial killer The Axeman (Danny Huston). While the actor had notable roles before in films like Million Dollar Baby and Men in Black 3, he would later rise to fame from Netflix's Marvel TV show Luke Cage as the title character and on another popular TV thriller, Evil.
Chrissy Metz (Ima Wiggles, Season 4)
Before she rose to fame for her Emmy-nominated role as Kate Pearson on the This Is Us cast, Chrissy Metz experienced a breakthrough on American Horror Story Season 4. She played a woman named Barbara who is recruited into the titular freak show and given the nickname Ima Wiggles by Jessica Lange's Elsa Mars after discovering her at a weight loss clinic.
Mark Margolis (Sam Goodman, Season 2)
Mark Margolis had already scored the most memorable (and Emmy nominated) character of his career when he joined the Breaking Bad cast as Hector "Tio" Salamanca by the time he cameoed on American Horror Story. He appears on three episodes of Asylum as a Holocaust survivor whose vengeful Nazi hunt is interrupted by the possessed Sister Mary Eunice (Lily Rabe).
Madchen Amick (Mrs. Ellison, Season 5)
The most iconic roles of Madchen Amick's career are Shelly Johnson from David Lynch's Twin Peaks or on the Riverdale cast as Betty Cooper's mother, Alice Smith. One of her more brief and underrated roles is on American Horror Story: Hotel as a hypochondriac killed by her own son after Alex Lowe (Chloë Sevigny) turns him into a vampire.
Marla Gibbs (Cassie Royale, Season 5)
Five-time Emmy nominee Marla Gibbs earned her iconic status as Florence Johnson on The Jeffersons and on 227 as Mary Jenkins. She brought that iconography to Season 5 of American Horror Story as the mother of Angela Bassett's character, Ramona Royale.
Malcolm-Jamal Warner (Angus T. Jefferson, Season 4)
Another Emmy-nominated former sitcom star who appeared on American Horror Story is Malcolm-Jamal Warner, who is best known for playing Theo Huxtable on The Cosby Show. Ryan Murphy would also cast him as NFL star Al Cowlings on American Crime Story after he played the second husband of the three-breasted Desiree Dupree, also played by Angela Basset on Freak Show.
David Burtka (Michael Beck, Season 4)
Yet another Emmy-nominated former sitcom star who appeared on American Horror Story: Freak Show is How I Met Your Mother cast member Neil Patrick Harris, but you probably remembered that. What you might have forgotten is that his husband, David Burtka (who played Scooter on HIMYM), also appeared that season as Elsa Mars' producer and spouse, Michael Beck.
Eric Stonestreet (Derrick, Season 1)
One Emmy-winning former sitcom star who appeared on American Horror Story is Eric Stonestreet, who played Cameron Tucker as part of the Modern Family cast for 11 seasons. In his sole episode from Season 1, the actor plays a patient of Ben Harmon who tries to face his fear by calling out to a Candyman-esque urban legend known as the Piggy Man, only to be killed by a burglar who thought he was mocking his weight.
Morris Chestnut (Luke Maxcy, Season 1)
Morris Chestnut (who may be a familiar face from appearances in movies like The Best Man and the TV show The Resident) made his feature film debut in 1991's Boyz n the Hood, opposite future American Horror Story: Roanoke cast member Cuba Gooding Jr. However, he got to beat his Oscar-winning co-star to the punch by starring in the series' first season as a security guard whom Vivien Harmon (Connie Britton) hires to help protect the "Murder House" and begins to the develop a crush on, much to the hypocritical chagrin of Ben.
Jenna Dewan (Teresa Morrison, Season 2)
Speaking of romance going south on American Horror Story, while the bulk of the second season takes place in the 1960s, we are first introduced to the infamous Briarcliff Asylum in the present day as it is being visited by a couple of self-described "horror freaks" seeking to consummate their marriage in several historically deadly spots. The lady in the relationship is Teresa Morrison, played by dancer-turned-actress Jenna Dewan, who is best know from the first of the Step Up movies.
Adam Levine (Leo Morrison, Season 2)
Playing Teresa Morrison's husband, Leo, is someone who is a bit of dancer himself, once claiming to have "moves like Jagger" in a 2010 pop song of the same. Of course, I am talking about Maroon 5 frontman and former The Voice coach Adam Levine, who made his acting debut (as someone other than himself, I should specify) as the ill-fated American Horror Story: Asylum character.
Considering this show has been on air for 10 seasons now, I would not be surprised if there were a few other notable names whom I forgot to mention. Regardless, it only goes to show that enduring the traumatic nightmares one goes through on American Horror Story, for many of the actors involved, it must be a dream come true.