One Chicago: 13 Things We Learned About Med, Fire, And P.D. From New Season Images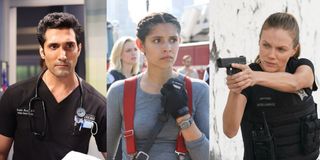 (Image credit: NBC)
The three shows of NBC's One Chicago are just a few weeks away from returning for the 2021-2022 TV season, to pick up on where the various cliffhangers left off back in the spring. Fans have had a lot to ponder over the past several months for Chicago Med, Chicago Fire, and Chicago P.D. Now, some One Chicago images have released to drop some clues about what's on the way.
Chicago Med's sixth season ended with the fewest ilfe-and-death cliffhangers, but also the only twists absolutely guaranteed to have permanent consequences. Chicago Fire Season 9 and Chicago P.D. Season 8 both ended with some lives in the balance and a history of killing off major characters. So, read on for a refresher on how the last seasons ended, and the images that give away some details about what's to come!
Chicago Med: What Happened At The End Of Season 6
The Med Season 6 finale set up the well-publicized departures of Yaya DaCosta's April Sexton and Torrey DeVitto's Natalie Manning, and the finale ended with April heading off to become a nurse practitioner and Natalie presumably about to be fired after coming clean to Goodwin about Will taking the fall for her. The bigger surprise came when Ethan was shot by a former patient of Dean Archer's, and Dean was named Chief of the ED while Ethan headed off to recover. Here's what the new photos for the Season 6 premiere tell us about what happens next!
Will Is Back At Med
Will initially took the fall for Natalie after she stole the trial meds for her mom in the second half of Season 6, but Natalie couldn't let Goodwin fire Will for something she did, and she came clean. Of course, Will had still crossed some lines and lied to Goodwin, and Goodwin already had 5+ years of Will bending the rules and even sometimes committing fireable offenses, but the new photos confirm what the casting news indicated: Will is back in the ED as a doctor. And probably part of some drama, based on his expression!
Ethan Is NOT Back At Med
Will may be back, but Ethan apparently is not! It's possible that Ethan is back in the mix and the Chicago Med promo images just don't give it away, but it looks like Dean Archer is in full ED Chief mode, which would suggest Ethan is still in recovery. Brian Tee is expected to be back as a series regular, so it's only a matter of time before Ethan is back. The question may be what the ED will look like, and how the staff is feeling, after a stint with Dean as Chief.
Crockett Isn't Miserable Without Natalie
The relationship between Crockett and Natalie was flourishing about as well as possible in Season 6 considering Natalie was hiding a big secret from him for several episodes, and he seemed pretty devoted to her. So the news that Torrey DeVitto was leaving Med seemingly meant that Crockett was in for some heartbreak. While he certainly may be upset about the end of their relationship in Season 7, the image of him with a big smile on his face at least indicates that he won't be totally miserable.
A Time Jump Is Probably Happening
The Chicago Med photos also reveal two new characters who have joined One Chicago for Season 6: Kristen Hager's Dr. Stevie Hammer and Guy Lockard's Dr. Dylan Scott. They're already dressed in Med scrubs, so it seems that fans are in for a time jump to account for when they were hired into the ED. That said, the time jump shouldn't be too significant if Ethan is still out and recovering. It will at least be enough for some newcomers to turn up and some former regulars to be long-gone.
Chicago Fire: What Happened At The End Of Season 9
In true Chicago Fire fashion, things were going extremely well for the heroes of Firehouse 51 at the end of Season 9... until something went horribly wrong just in time for the credits to roll. Brett and Casey were finally on the same page for better or worse, Stella had passed her lieutenant's exam and was highly recommended for a position on Engine at another firehouse, she and Severide were engaged, Boden was up for a promotion... and then Severide, Cruz, Capp, and Tony were trapped under an overturned boat, out of air, as it began to sink.
No Time Jump
This reveal isn't particularly surprising, but the promo images indicate that there's not going to be a time jump from where the Season 9 finale left off with Severide and Co. seemingly moments away from drowning to three months later. No matter what happens to the four Squad heroes, viewers will presumably get to watch it happen, or at least watch along with Stella, Casey, and the others on shore. There may be a time jump later in the episode; just not to start.
Everybody Probably Didn't Die
This is technically more of an educated guess based on a photo than a hard fact, but based on the big smile on Boden's face, I'm going to go ahead and guess that he didn't just lose all four of his Squad firefighters in a devastating drowning incident. Does that mean everybody is going to live and be back at Firehouse 51? Not necessarily, but I'm guessing that most if not all are going to survive if Boden is going to have that look on his face.
Boden Could Be Moving On Up
Boden could also have a big reason to smile beyond some and/or all of his Squad firefighters potentially surviving, based on an image of a conversation with CFD's Deputy Commissioner Gloria Hill. He admitted last season that he's interested in becoming Deputy District Chief, so it's possible that he's getting that promotion. He certainly deserves it after everything he's led Firehouse 51 through over the years. The sticky issue might be Chicago Fire finding a way to keep Eamonn Walker around if Boden is promoted, but the odds seem pretty good that Boden is moving up the ladder.
Herrmann Looks Serious
Herrmann is looking pretty serious in the promo photos, which leads me to wonder if he could change positions at Firehouse 51 too. If Boden becomes Deputy District Chief, could the CFD promote somebody in-house at 51? While Casey is the highest-ranking officer and Severide has seniority over everybody except Casey, Herrmann could make the most sense from a show perspective. His promotion would open the lieutenant's position on Engine, conveniently right after Stella passed her exam and needs an open slot. Would it make sense in the real world for Herrmann to get the job over Casey and Severide? Maybe not, but maybe in TV land!
Stella Is Still On Truck 81
Another photo proves that Stella will still be a firefighter on Truck 81 in the Season 10 premiere, and definitely still going on dangerous calls. While it's good news for fans that Stella will still be around, it would be a shame for her to have gone through everything with the lieutenant's exam only to not get to be an acting lieutenant for a while.
Chicago P.D.: What Happened At The End Of Season 9
Chicago P.D. pulled no punches on One Chicago finale night in the spring. Burgess was brutally attacked but managed to survive long enough to be rescued by Halstead and Atwater, who pursued the case on the straight and narrow (as much as Intelligence ever does). Things got uglier for Voight and Upton, when Upton's desperate attempts to pull Voight back from the brink turned into her killing a man to save him, and Voight disposed of the body to guarantee that her hands are now dirty, and she was so shaken up that she popped the question to Halstead before the end of the finale.
Miller Stuck Around
One of my big questions following the Season 8 finale was whether or not Samantha Miller would be back, partly because of the murder of her son and partly because Nicole Ari Parker joined the cast of two new TV projects over the summer. The promo photos reveal that Miller will indeed be back. Assuming that blonde ponytail belongs to Upton, she'll seemingly be having an intense moment with the cop who Voight pulled down into the mud with him, so she might not be all about doing things by the book anymore after losing her son.
Voight Is Up To Something
Voight is often up to something when it comes to Chicago P.D., but he sure does look like he's standing over a fire in the darkness in this photo! Considering he ended the Season 8 finale burning the body of the man Upton killed to save him, it's hard not to wonder if he's destroying some evidence, and/or disposing of another body. For Upton's sake, I hope she's not involved if he is doing something especially shady!
Burgess And Ruzek Are MIA
Every member of the Intelligence Unit appears in the batch of promo photos with the exception of Burgess and Ruzek, which suggests that Chicago P.D. won't start on much of a time jump. Burgess may still be recovering from her grievous injuries from the end of Season 8, and Ruzek could be by her side and/or taking care of Makayla while Burgess heals. Or, of course, they could be in the mix but simply not featured in the promo images, but my guess is that they're missing because of Burgess' injuries.
No Ring On Upton's Finger
Last but certainly not least, there's no indication of what happened following Upton's proposal to Halstead, which was arguably the biggest cliffhanger of One Chicago last season that wasn't life-or-death. They don't even appear in the same photos, so fans waiting for answers on the front, for better or worse, will have to keep on waiting. Even though Upton technically did propose to Halstead, I'm pretty sure it's Jay's turn with his mom's engagement ring, since he and Will just seem to be trading it back and forth until one of them successfully ties the knot!
On a more serious note, if there's not a time jump early on, it's possible that Upton and Halstead won't have actually dealt with the proposal. They do both look like they're in the zone of investigating in the promo photos, and even I as a fan of their dynamic don't really want them to get engaged after how Upton proposed. The poor woman was an emotional wreck after Voight played on all her insecurities and trauma, and Halstead could clearly see that something was up. But on the whole, there's a lot we don't know, and I honestly wouldn't expect an engagement ring anyway. It's still Chicago P.D.!
While this batch of One Chicago promo photos did give away enough details for fans to start speculating again, the real answers won't come until Chicago Med, Chicago Fire, and Chicago P.D. all return in the fall. Fortunately, those returns aren't too much farther off. One Chicago returns to NBC on Wednesday, September 22 with Med at 8 p.m. ET, Fire at 9 p.m. ET, and P.D. at 10 p.m. ET.