Adult Swim Orders Dan Harmon's Rick And Morty To Series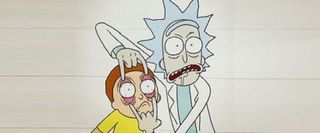 Community creator Dan Harmon has moved into the animated arena. Cartoon Network's Adult Swim has picked up a series created by Harmon called Rick and Morty, ordering ten episodes. It's his first new project to be officially picked up since he left Community amid much discord earlier this year.
Rick and Morty was written by Harmon along with Justin Roiland, who brings animated experience from the Disney Channel series Fish Hooks. It is about a genius inventor whose son turns out to be somewhat less intelligent than his father, and their life together. Harmon's work should fit in nicely with the rest of Adult Swim's lineup of offbeat series like Children's Hospital and Robot Chicken. Adult Swim announced the project last May, right around the time that Harmon was officially replaced as showrunner on Community. TV Line says the series will be set to premiere towards the end of 2013, so there's still a good year to wait before we get to see it.
Harmon has been a busy guy since being dropped from Community. In addition to this animated series, he also has a couple of live action series in the works, one at Fox and the other at CBS. Both are reported to be multi-camera comedies, taking Harmon in a new direction from the single-camera Community. We'll keep you updated on the progress of those projects. In the meantime, we'll just have to wait for a premiere date for Rick and Morty.
Your Daily Blend of Entertainment News