Ellen DeGeneres Is Producing A Comedy Starring Idina Menzel, Get The Details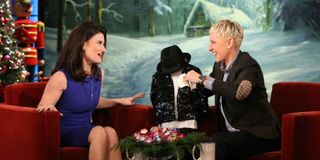 An Ellen DeGeneres and Warner Bros TV studio called A Very Good Production may have just found a comedy winner. The studio is looking ahead towards the 2015-2016 development cycle with a half-hour comedy project set to star Frozen's Idina Menzel.
Deadline first broke news of this pilot, and the comedy, currently titled, Happy Time is written by Randi Barnes who is most popularly known for her work on the animated film, Legends of Oz: Dorothy's Return as well as Disney Channel's Girl Meets World and Imagination Movers. So far, the plot is described as a comedy following a woman (played by Menzel) who is ready to stop pretending she's always so happy. The project, which wants to shoot in single-camera, will be pitched in the next development cycle, so we have some time to see it come into any fruition.
But, this is exciting news for Menzel, who has watched her career continuously soar after her hugely successful role in Disney's Frozen. Can't remember her in the film? Well, in case you need a reminder, she sang that cute little song—you know the one that every pre-teen girl was shouting through the streets while top chart radio stations played it on seemingly endless loops. It went something like this:
Menzel has most recently been seen on the TV screen in her recurring role on Fox's Glee. She first appeared in 2010 on the episode "Hell-O" where she special guest starred as a vocal coach of the rival show choir. And later, as fans lobbied for Menzel to be cast as the mother of the main protagonist portrayed by Lea Michele because of their resemblance to one another, the show cast Menzel as a more regular recurring character.
If anyone is so deserving of their late success though, it is definitely Idina Menzel. It's not to say she was by any means unsuccessful before voicing Elsa in Frozen, the talented actress and singer-songwriter received a Tony Award nomination in 1996 for her performance in Rent which she later went on to reprise in the 2005 feature film adaptation. And that wasn't all, Menzel won the Tony Award for Best Actress in a Musical for originating the role of Elphaba in the 2004 Broadway Musical Wicked. But, since her run on the Disney film, Menzel has become a household name, not only known to theater followers.
Menzel is currently starring on Broadway in the original musical If/Then which also earned her a 2014 Tony Award nomination for Best Actress in a Musical. And you can look forward to watching Menzel sing the national anthem at tomorrow's Super Bowl. All that being said, we look forward to the progress of this comedic project. It's pretty much assumed at this point that if Menzel's name is attached, there has to be some incredible songs, but add Ellen DeGeneres' name to the mix, and we know that laughs are in store as well.
Your Daily Blend of Entertainment News
Thank you for signing up to CinemaBlend. You will receive a verification email shortly.
There was a problem. Please refresh the page and try again.