Friday Night Lights Saved! And Other News From The NBC Upfronts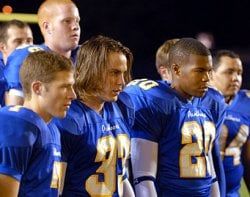 NBC had its upfront presentation today, where it unveiled its schedule for next season. In addition to new shows such as The Office spinoff we previously reported on, many fan favorites will be returning next season. Chief among those is Friday Night Lights, the low-rated, but beloved high school football series. FNL will be returning for a 3rd season, but won't premiere until the winter.
Other returning series aren't much of a surprise: ER, Heroes, Law & Order, Law & Order: SVU, Medium, My Name is Earl and 30 Rock will all be returning next season. There will also be plenty of reality shows on the schedule, with Celebrity Apprentice, Deal or No Deal and The Biggest Loser returning in the fall and America's Got Talent, American Gladiators and Most Outrageous Moments filling out the summer schedule.
Several freshman series also received pickups. Lipstick Jungle, Chuck and one of my personal favorites, Life, are all graduating into sophomore seasons. Of course, not all of NBC's series were so lucky. The long awaited Heroes spinoff, Heroes: Origins is still nowhere to be seen. Also conspicuously missing from the schedule is the long-running comedy, Scrubs, which is rumored to be moving to ABC.
Of course NBC unveiled plenty of new series for next season. Among them are the Knight Rider remake, My Own Worst Enemy, a drama starring Christian Slater that sounds like a dude-version of Alias, and the awkwardly cast Kath & Kim, the remake of an Australian comedy starring Molly Shannon as Selma Blair's mom. Crusoe, based on the Robinson Crusoe story, will air on Fridays, while a show called Merlin will be a midseason replacement. There will also be a few new reality shows joining the schedule: a cooking show called The Chopping Block, and Shark Taggers.
This year's intense presidential race has also inspired a show: SNL Thursday Night Live will be a half-hour live sketch show solely covering politics. It will air after The Office for four weeks in October.
So what are you excited about on the schedule? Do you think NBC did a good job, or did they leave your favorite show off while keeping something crappy on? Post your comments below.
Your Daily Blend of Entertainment News
Your Daily Blend of Entertainment News
Thank you for signing up to CinemaBlend. You will receive a verification email shortly.
There was a problem. Please refresh the page and try again.