Magic City Adds James Caan And Esai Morales For Season 2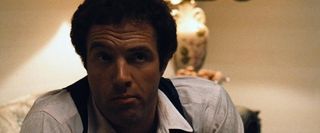 The mob-oriented drama, Magic City, is adding to its cast for Season 2, and the show will be bringing a guy with some serious onscreen mobster credentials into the fold. It doesn't get much better than James Caan, who co-starred in The Godfather and picked up an Oscar nomination for his role as Sonny Corleone. He'll be joined in the new season by NYPD Blue actor Esai Morales.
Caan is, of course, coming in to play a mobster for Starz's drama, which follows a Miami hotel owner who is forced to make a deal with the local mob. Deadline says he will take on the recurring role of Chicago mob boss Sy Berman. Berman is local Miami boss Ben Diamond's mentor, and is the man who saw the potential for a life of crime in him and encouraged Diamond to become "The Butcher". Apparently, he's also in some way connected with Diamond's wife, but the details on that are being kept quiet. Caan's Godfather credit makes him the perfect choice for a series said to have been inspired by the classic mob film.
Also coming on for a recurring role will be Esai Morales, who will play Cuban freedom fighter Carlos Ruiz. He's a former rebel and Castro supporter who has changed his life goal to the pursuit of freeing his nation from Castro's power. Morales most recently appeared on Fairly Legal. Caan hasn't taken a major television roles since he appeared on Las Vegas, the NBC series that wrapped in 2007.
The second season of Magic City is just getting filming underway. It's expected to premiere in 2013.
Your Daily Blend of Entertainment News