Michael Bay To Produce Treasure Island Prequel Series Black Sails For Starz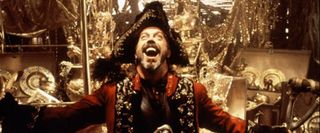 Michael Bay is often a man of action and adventure, but he is not often a man to bring his own brand of action to the TV realm. All that is changing, now Bay has signed on with Starz to produce his very first television series – a sequel to Robert Louis Stevenson's classic, game changing adventure novel Treasure Island.
Starz has already picked up the project – which is currently rolling with the title Black Sails - to series and has given the upcoming show an eight-episode order for its initial run. The first season's plot will fall twenty years before the events in Treasure Island, when a young lad named John Silver joins the crew of one of the mightiest, most fearsome ships of the day, run by a survivalist captain known as Flint. Jericho's Jon Steinberg created the show, and also will serve as an executive producer and showrunner.
Starz Chief Executive Officer, Chris Albrecht, is calling the upcoming drama, "Epic, larger-than-life storytelling," which reads to mean "expensive", so expect a lot of elaborate sets and over-the-top action scenes, all of which should really be no surprise coming from Bay. With the Transformers franchise director and producer at the helm as the executive producer, his producing buddies Brad Fuller and Andrew Form also nabbing producer credits, and Touch's Robert Levine added as a co-executive producer, Black Sails sounds as if it is already ready to get the show on the road.
Production is expected to begin in Cape Town, South Africa later in 2012.
Your Daily Blend of Entertainment News
Thank you for signing up to CinemaBlend. You will receive a verification email shortly.
There was a problem. Please refresh the page and try again.