The Most Striking Super Bowl Commercial Goes To Heroin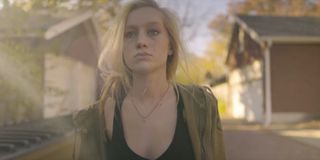 The Super Bowl is a time for sharing food and rooting for a team. It's a time for comaraderie and friends, for boozing, barbecue and making snarky remarks about the apparel the musicians performing during the halftime show choose to wear. It's a night for a lot of things, just not usually heroin, which is why this NCADA commercial makes us not really know how to feel. You can check out the striking heroin PSA, below.
In the video, a high school student slowly begins to drift away from activities she used to enjoy. She drops her pom-poms and quits being a cheerleader, she leaves school in the middle of the day, she even purposefully loses her phone and quits engaging in social activities. Her mother doesn't know where she is. She loses her dog. Each event gets sadder and sadder until the teen pulls over on the side of the road in a shiny new Subaru—poor Suburu, they didn't ask for this—and we realize that heroin has taken over her life.
It's really, really, sad, made even sadder on my end by the fact that the NCADA commercial was made in St. Louis, where I currently live. I have no real horse race in this football game, but I expected it to be a night of food, as mentioned above, and I'm currently sitting here with tears on my face. The thing is, I'm not really sure a #heroin commercial, as the NCADA encourages us to hashtag, is what I wanted out of my night. I'm equipped to handle interceptions, blocks and even the flags that are thrown out by the refs. But a heroin commercial? That I did not exactly sign up for. But maybe that juxtaposition is exactly why this commercial was so striking.
Look, I'm not knocking on the message of this commercial. A lot of families suffer greatly when a child or parent starts using heroin. It's a subject that should be talked about with your children to make sure they don't follow in the same path as the young girl in the commercial. Hell, it's a subject that should be brought up way more often in general. Maybe the time to do that wasn't right after Bruno Mars, Beyonce and Coldplay took the stage at Super Bowl 50. Or maybe it was and it's exactly what (inebriated) fans across the country need to hear.
The NCADA commercial is striking. It's very memorable, and that's exactly what the group was looking for when they paid good money to get the ad out into the public when so many eyeballs were tuning in. It's the same idea behind those Sarah McLachlan dog commercials. Or that Nationwide commercial last year. But I hope there's only more of Ryan Reynolds cloning himself over the next couple of hours. Because I'm not sure that I can afford to sniffle in a roomful of people again tonight.
If you are interested in the heroin campaign, you can learn more here.
Amazing Race & Top Chef superfan with a pinch of Disney fairy dust thrown in. Theme park junkie. If you've created a rom-com I've probably watched it.
Your Daily Blend of Entertainment News
Thank you for signing up to CinemaBlend. You will receive a verification email shortly.
There was a problem. Please refresh the page and try again.