My Best Friend's Wedding May Get A Sequel TV Series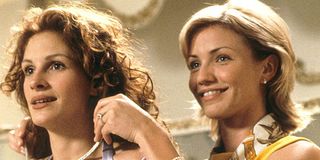 Julia Roberts has a lot of well-liked films to her name. From rom coms to heist movies and harder fodder like Erin Brockovich, there have been a lot of movies that are still fondly remembered by fans. It's no real surprise that with all of the reboots for TV in the works right now that a network might choose to put together a project based on a Roberts film. However, it's a little surprising that My Best Friend's Wedding is the film that ABC has ultimately chosen. Apparently, a sequel series to the popular movie is currently in the works with the network.
It's a little early to definitely say that a My Best Friend's Wedding series will happen. This week, we learned that ABC has signed on for a script commitment plus penalty for the possible sequel. Obviously, if the project does move forward, Roberts, Dermot Mulroney and Cameron Diaz would not be attached, mostly because TV, but also because of the timeline. The script will pick up right where the events of the 1997 movie left off. Roberts' movie character, Julianne, will be in New York City, living life and still getting advice from her best pal George (played by Rupert Everett in the film).
EW reports Ron Bass and Jessica Amento are writing the script for My Best Friend's Wedding. In addition, original producers Jerry and Janet Zucker will be back to executive produce. The aforementioned Ron Bass along will earn an executive producing credit, as will Mike Menchel.
There are so many sequels, prequels, reboots and remakes in the works right now, it's becoming difficult to keep track. Just yesterday, we learned that a potential sequel to Hansel and Gretel: Witch Hunters is also being reworked for a TV sequel. That's not even counting stuff like Minority Report, Limitless and Fuller House, which is already on the air—or about to be, in the latter's case. Some of these ideas have obviously been scrapped before they have gone to air (you need go no further than NBC and Coach for an example) but a lot of them seem to be moving forward, and quickly.
It's hard to tell if My Best Friend's Wedding is a movie that's ripe for a sequel. Sure, people were pretty fond of that movie in the nineties. However, rom coms as a whole are less popular now. Last year, the rom com TV shows Manhattan Love Story and A to Z ended quickly, so I'm not sure if there's a market for a project like this, although perhaps My Best Friend's Wedding would be a little more Sex and the City than either of these aforementioned shows. Still, I'm not sure how fondly people remember a movie they quite possibly have not watched for 18 years. And without some big names as a draw, this project might just be dead in the water. We'll find out soon enough if ABC is able to breathe some life into it. For now, check out what's coming up this fall.
Amazing Race & Top Chef superfan with a pinch of Disney fairy dust thrown in. If you've created a rom-com I've probably watched it.
Your Daily Blend of Entertainment News
Thank you for signing up to CinemaBlend. You will receive a verification email shortly.
There was a problem. Please refresh the page and try again.