Watch The Golden State Warriors' Announcer Call Spurs Fans Jerk-Offs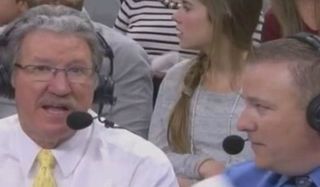 If you fancy yourself a sports aficionado, there are few better places to turn than the Golden State Warriors for a genuine spectacle. The team has absolutely dominated this basketball season, and even non-fans have banded together to see the team's star Steph Curry become one of the best players in NBA history. That being said, it's not just the Warriors themselves who make for great entertainment, as one Warriors announcer grabbed the Internet's attention recently when he called a handful of San Antonio Spurs fans "jerk-offs." Check out the video below to see for yourself.
As you can see from the Tweet above, there's really no getting around it. During a recent game between the Golden State Warriors and the San Antonio Spurs, a group of Spurs fans began waving their hands in front of the camera as the Warriors' announcers provided what I can only assume had to have been razor-sharp commentary during a time out. Not content with just letting the fans get away with it, one of the announcers pointed out the fans putting their appendages into the shot and referred to them as "jerk-off fans."
Here's the thing that makes the above video so simultaneously hilarious and confusing: absolutely nobody calls out announcer Bob Fitzgerald for making the comment. It's almost as if he had used the word "rude," or "disrespectful." He just blurts out that the Spurs fans have acted like "jerk-offs" for their attempts to interrupt the broadcast, and they keep announcing the game as if nothing had happened. However, the Internet picked up on it; much like Baskin-Robbins in Peyton Reed's Ant-Man, the Internet always finds out.
I'm no expert on broadcast television, but I am going to go out on a limb and suggest that Fitzgerald might not have chosen his words wisely in that specific instance. It's not like anyone who supports the Golden State Warriors has anything to complain about lately; at the time of this article's publishing, the Warriors continue to hold onto their status as the dominant force in the NBA. With a 72-9 record, their status as best in the NBA will receive little challenge, and they threaten the 1996 Chicago Bulls' top spot for best record ever. The Spurs fans may have thrown their hands in front of the camera during a live broadcast, but they were also probably just pissed off that they had to face the Warriors on that particular evening.
If you haven't watched the above video yet, be sure to give it a view. But don't get your blood boiling if you happen to be a Spurs fan.
Your Daily Blend of Entertainment News
Originally from Connecticut, Conner grew up in San Diego and graduated from Chapman University in 2014. He now lives in Los Angeles working in and around the entertainment industry and can mostly be found binging horror movies and chugging coffee.