The X Factor Officially Replaces Cheryl Cole With Nicole Scherzinger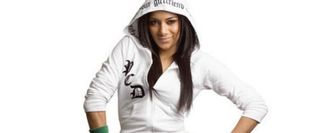 The newest 'will-they, won't-they' relationship on television has finally come to an end... and they won't. Of course, I'm taking about the seemingly never ending drama surrounding Cheryl Cole's judging position on the American version (and subsequently the British version) of The X Factor. After another weekend of rumours, announcing both her potential return and her potential replacement, it seems Fox has finally made up their minds, the Geordi accent will not be sitting on the panel.
Fox, and mastermind/dickhead Simon Cowell, made their official announcement today that Cole would not be joining the talent-search show and instead Nicole Scherzinger (Pussycat Doll and Dancing With the Stars champ) will sit on the panel with Cowell and Paula Abdul. Scherzinger was oringally set to host (with Steve Jones, who'll be flying solo now) but now, after the drama surrounding Cole, she gets promoted to the judges table (don't you actually need talent to judge talent? Maybe not...).
Anyway, it's nice that the drama has come to an end and I'm sure everyone at Fox and in the Cowell camp is excited about the publicity this has all generated for the reality show. I know I can't wait to not tune in!
Your Daily Blend of Entertainment News