Adam Levine's Wife Behati Prinsloo Publicly Responded To A Call Her Daddy Prank About The Singer's Cheating Scandal
The prank caught Behati Prinsloo's attention.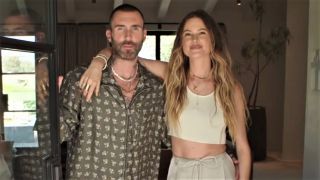 (Image credit: Architectural Digest)
Adam Levine made headlines last fall after multiple women accused him of engaging in extramarital affairs. While Levine was quick to deny the allegations, further purported details continued to emerge over the next few months Additionally, the situation was met with a barrage of jokes from commentators on social media. All eyes were also on his wife, Behati Prinsloo, who reportedly supported and stood by him amid the controversy. Things have seemingly cooled down at this point though, this week, the Call Her Daddy podcast initiated a prank related to the scandal, and Prinsloo publicly responded.
How Call Her Daddy Played Into Adam Levine's Alleged Cheating Scandal
Call Her Daddy's Alexandra Cooper has engaged in some very interesting (and entertaining) antics since she's hosted the podcast. This isn't limited to the show itself either, as she's also found creative ways to beef up show promos. For this week's episode, she teased a seemingly tense conversation – during which she tells the unseen interview subject that she "was a huge Maroon 5 fan." She then goes on to thank the person for agreeing to discuss "the infidelity" in their marriage. It's convincing for a second or two but, as it turns out, Cooper isn't talking to the famed frontman. See who the true guest is in the preview, which was posted to Instagram:
Those who were hoping for a salacious tell-all interview of sorts may have been disappointed, but fans of Adam DeVine probably weren't. Regardless of where you stand within the cheating conversation, few would deny that this was a cheeky way of referencing it. And clearly even Behati Prinsloo could see the humor in it. That assumption is based on her response to the first teaser that hit social media earlier this week. Check out her comment, which consists of only three letters:
This response would seem to further suggest that Behati Prinsloo isn't bothered when it comes to any rumors or barbs aimed at her hubby. Back in October, the model took some time away from the web, but Prinsloo marked her return to social media with a middle finger. During that time, she also consumed with her pregnancy, even sharing photos of a baby photoshoot featuring lingerie, a Burger King crown and more. In January, Prisloo and her hubby welcomed their third child, a little girl. One would assume that she's on cloud nine right now and has no time to fret about commentary – even any that comes from a star like Adam DeVine.
Why Did Adam DeVine Get Involved In The Drama?
Considering that their names sound similar, it's not all that surprising that fans would confuse Adam DeVine with the Voice coach. Not long after the cheating allegations began to surface, DeVine took to Instagram to set the record straight. He specifically shared a picture of himself alongside his wife, Chloe Bridges, and clarified that he's not the singer/songwriter. This "not Adam Levine" post subsequently received responses from notable celebrities like Alexandra Daddario and Jaleel White. One might be surprised that he even jumped into the convo. He provided his reasoning for doing so during Call Her Daddy's latest episode:
When considering all of that, you can see why the actor felt compelled to speak out. Can you imagine getting countless DMs with spiteful messages all because of a case of mistaken identity. I'd dare to assume that it's not all that fun. But then again, the star handled all of this in stride, which was probably to be expected since comedians truly know how to roll with the punches.
Related
Adam Levine Alleged Cheating Scandal: A Timeline Of Everything We Know
Speaking of rolling with the punches, it's likely that Behati Prinsloo and Adam Levine will have to continue to contend with puns aimed at the purported cheating situation. There's also, of course, the possibility that more alleged details could reach the surface at some point in the future. When it comes to any playful jabs though, it's possible that Prinsloo will keep her sense of humor – as long as the jokes aren't too severe, mind you. As for how her husband chooses to address such pranks, that remains to be seen.
Your Daily Blend of Entertainment News
Covering superheroes, sci-fi, comedy, and almost anything else in film and TV. I eat more pizza than the Teenage Mutant Ninja Turtles.