Cole Sprouse Got Candid About Losing His Virginity And More In New Interview, But The Internet Won't Stop Roasting Him For Smoking Inside
Cole Sprouse got candid, but the fans won't stop roasting him for smoking.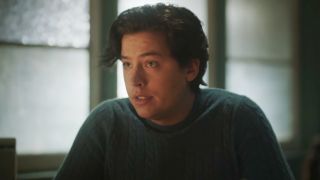 (Image credit: The CW)
Cole Sprouse has been a working actor since he was a baby, and starred alongside his twin brother Dylan in movies like Big Daddy and shows like Friends and Suite Life of Zack and Cody. So, it's safe to say he's been around the block, and has been through a lot. With that being said on a new podcast, the actor spoke openly about a lot of sensitive topics like being a child actor, the difficulties of childhood fame, his close relationship with his twin, his parent's divorce and the custody battle that followed, his break-up with his Riverdale co-star Lili Reinhart as well as losing his virginity at 14. However, while he spoke candidly about all these topics, the internet can't get over the fact that he was smoking a cigarette indoors.
Cole Sprouse Candidly Discusses Loving His Virginity At 14
Sprouse really spoke sincerely and candidly about his past, but he also had a good sense of humor about it all. While his stories about his parents, brother and time on Disney Channel were fascinating, one of the more shocking moments from Sprouse's appearance on the Call Her Daddy podcast was his story about losing his virginity when he was 14.
The Riverdale star started the story by explaining that he was on a family trip to Florida, and met an older girl, the second time they saw each other he asked her if she was "DTF." That's literally what he asked, and he noted that his twin will never let him live that line down. He continued the story about taking her back to his hotel room, saying:
The actor noted during the story that after this moment he became a "serial monogamist." Much like he did with other stories he told, Sprouse reflected on how that moment impacted his love life moving forward, but he also acknowledged how funny the story was, saying:
Throughout the podcast, Sprouse talked about how he has done a lot of self-work, and openly spoke about very personal topics, like losing his virginity. However, throughout the entire episode, he was smoking a cigarette, and the internet will not let him live it down.
Fans Can't Stop Roasting Cole Sprouse For Smoking Inside
Since seeing people smoke a cigarette inside is not a common sight these days, it comes as no surprise to me that the internet is roasting Cole Srpouse for doing it. While he asked for permission to smoke, and noted that people smoke weed indoors all the time, the internet is roasting him big time, posting things like what Ashley Reese wrote:
Many people seemed off-put by Sprouse's decision to smoke, and posted things like what @brittanyzapataa wrote:
Michelle agreed with this sentiment by posting:
Another listener, @barchiebaby, poked fun at the Riverdale star by posting a photo of Chandler Bing:
However, there were some people humorously supporting the actor, by noting one of Cole Sprouse's best-known projects, Riverdale. For example, Yew posted:
Like most of these Twitter users, I don't love that Cole Sprouse was smoking indoors, but honestly, it was kind of a vibe to see him reflect on Zack and Cody all these years later, his previous relationships and losing his virginity while casually holding a cigarette. It was giving Mad Men vibes, in my humble opinion. Overall, it was cool to see one of Disney Channel's former stars speak so openly about his time working crazy hours like Jenna Ortega did as a kid, and his relationships with his family and partners.
If you want to see what Cole Sprouse is up to now, Riverdale's final season is will start airing on the 2023 TV schedule on March 29, and you can stream the first six seasons with a Netflix subscription.
Your Daily Blend of Entertainment News
Riley Utley is a Weekend Editor at CinemaBlend. She spent many years working in local journalism across the country writing about art, news and sports. One of her favorite films is When Harry Met Sally and she walks around constantly quoting Ted Lasso.