New Game Mode Will Turn Rocket League Into Mario Kart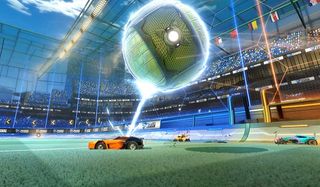 Fan-favorite car/soccer game Rocket League is due for yet another major update, and this one is something of a doozy. You wanted power-ups, and now you're getting power-ups.
Drawing immediate and totally founded comparisons to Mario Kart, the latest wrinkle being added to Rocket League is the ability to fire weapons at your opponents, completely changing the way folks will pay the game.
Like all major updates to Rocket League, the "Rumble" mode will be added at no extra charge, meaning everyone will be able to play on all platforms without spending another dime. The Rocket League team has even put together a helpful trailer, in case you were curious what power-ups in a car-controlled footy match might look like.
The Rumble trailer starts off normal enough, with a bunch of players getting ready to dive into a standard match of Rocket League. When one car leaps for the ball, however, a boot shoots in out of nowhere to send the car flying, thus preventing the shot. Yep, this seems like exactly the thing Rocket League has been missing; an all-out, utterly ridiculous mode that's less about competitive play and more about openly terrorizing your opponents.
Other power-ups on display in the trailer include what looks like a tether that makes the ball follow your car, an ice gun, a tornado, and spikes that attach the ball to your car. Did we mention the tornado? Because there's a freaking tornado.
The remainder of the trailer features shots of all of these power-ups being used in interesting and utterly insane ways, which will probably make for even more "holy crap, did you see that?" moments in a game that's already full of those types of moments.
According to the trailer, the new Rumble mode will arrive in Rocket League this September and, because it bears repeating, it will be 100 percent free. All you have to do is turn on the game and choose the Rumble mode from the match select screen. These types of releases typically come hand in hand with something you could buy though, so we wouldn't be surprised if Psyonix announces a new car pack in the near future, too.
And that, ladies and gentlemen, is why Rocket League continues to be one of the best games of the current generation. Not only are Psyonix delivering game modes gratis which allows the community to stay united, but they're doing so on a regular basis. From hockey and basketball to loads of new maps and now Rumble mode, it's the game that keeps on giving.
Let us know your thoughts on Rumble mode in the comments below. If you haven't played Rocket League in a while, is this something that will get you back into the game?
Staff Writer for CinemaBlend.
Your Daily Blend of Entertainment News
Thank you for signing up to CinemaBlend. You will receive a verification email shortly.
There was a problem. Please refresh the page and try again.