The Epic Mickey Spinoff We'll Never See Starred Another Classic Disney Character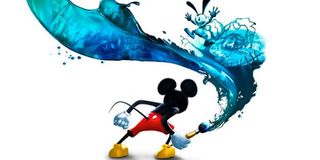 It turns out that the Epic Mickey series had a spinoff in the making, one that featured a character that's just about as famous as Disney's mascot mouse. Sadly, that game will never see the light of day.
So it turns out that following Epic Mickey and its sequel, Disney began work on another game boasting similar themes, Epic Donald. Set to star Donald Duck, early concept art for the game makes it look like this particular title was going in a slightly different direction, one boasting a focus on wacky gadgets and different modes of transportation.
So, if this game was such a deep, dark secret, how are we finding out about it now?
Well, it turns out that one of the early concept artists, Pat Block, is selling some of his creations on ebay. As a result, he has decided to share some of his creations with the world, giving us an idea of what the Epic Mickey spinoff might have looked like. Here's a bit of info direct from Block.
In other words, Epic Donald likely wasn't going to look much like Epic Mickey. The latter went into a slightly darker realm full of magic and wild creations. It sounds like Epic Donald was planned to be colorful and a bit more classic cartoony.
Based on the artwork, we know that the inventor known as Gyro, seen above, was one of the planned characters, seemingly responsible for the various forms Donald's vehicle can take in the game. It looks like Donald planned on visiting a junk yard in the game, while his car is shown both flying and floating down a river.
No other characters are shown, so we have to wonder if anyone else from the DuckTales gang was planned for inclusion.
According to Block's comments, he was working on this Epic Mickey follow-up in 2012, which was about the time that Disney decided to switch gears away from games. In other words, it doesn't sound like we were much beyond the conceptual point before the project got shut down.
And it's too bad, too. Not enough lighthearted, family-friendly games are coming from AAA developers these days, and it would be nice to see something like Epic Donald serve as a counterbalance to games like Destiny, Call of Duty and the 47th Assassin's Creed game.
Staff Writer for CinemaBlend.
Your Daily Blend of Entertainment News
Thank you for signing up to CinemaBlend. You will receive a verification email shortly.
There was a problem. Please refresh the page and try again.